"A Glass Act"
Gene Meadows – Photographer
Janet Kelman – Fused Glass
April 10 — May 29, 2016
Woods Gallery – Huntington Woods, Michigan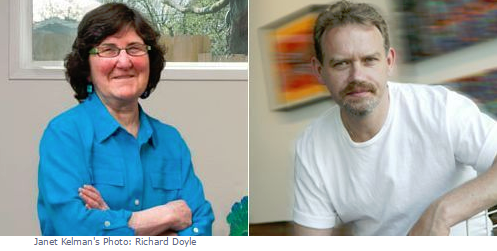 Photographer Gene Meadows "De-con-struct" photographic installation is featured as a backdrop throughout the gallery. Gene discovered the beautiful side of technology after disassembling his electronics after the flood or 2014 and has transformed tragedy into beautiful works of art on glass.
Gene is an architectural and fine art photographer with his own firm, Meadows & Co., "Photographing the Art of Space & Place." His fine art photography, (in private, corporate and museum collections, including the Detroit Institute of Art and Toledo Museum of Art), has been exhibited in numerous group shows, as well as solo exhibitions including CAR PARTS, Cranbrook Intimate Space, and Chiaroscuro, Eastern Europe. Gene's images have been published locally, as well as in Architectural Record, Metropolis, House Beautiful, Echoes and Land Forum.
This most recent photographic series, "de – con – struct," (reducing something to its' inner core in order to reinterpret") is inspired by the personal aftermath of the flood of 2014. "I am wired to recycle, repurpose and/or reimagine objects around me. As I began dismantling my ruined technology equipment, I was drawn to examine their inner components. I found them fascinating, delicate, beautifully designed & engineered of metals such as platinum, gold, silver and copper. I began collecting & photographing them. In this way, sharing them in an exhibition, I feel I have given them a new usefulness & a second life."
Former Huntington Woods resident Janet Kelman will display several of her fused glass "boats", in an amazing tribute to the wonders of the aquatic world. As a sweet treat Janet will tempt us with a very different glass form from her new series – "Baby Cakes."
Janet has created sculptural and architectural glass for over forty years. She studied chemistry in college and fell in love with glass, aesthetically as well as the physical ways in which the medium can be manipulated. She built a studio and produced beautifully blown and etched perfume bottles that were sold in galleries across the country. In 1985, Janet began creating architectural glass: sandblasted doors, windows, and mirrors in her distinct, delicate style. Recent commissions include mosaics, donor walls, sculptural wall pieces, and lighting. Her work graces homes and businesses across the Midwest. In 2009, Janet married and moved to Ann Arbor.
"I am drawn to water and images of water. It was thrilling for me to learn to scuba dive. The series I call "Seafans" emerged from that experience. My latest work is an exploration of water images and color, applied to simple shapes, rectangles and boats. I create small glass pieces using threads of glass, enameled images, crushed glass, whatever else I can dream up, and assemble them in layers on a kiln shelf. The finished fused glass always provides surprises, its constant allure for me."
Artists Jim Donnellon, Andrew Lynch & Mary Lane prove that playing with fire can yield amazing results transforming molten blobs of glass into beautiful vases, bowls & plates.
Woods Gallery –  26415 Scotia, Huntington Woods, MI 48070 . 248-581-2696