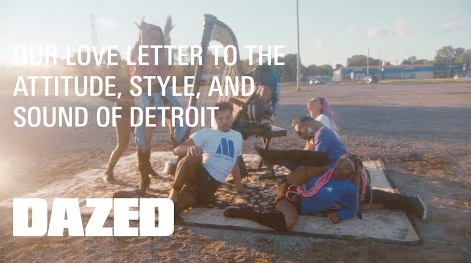 The entire popular music landscape owes many of its tricks to the city of Detroit during the Motown era. For Detroiters, Motown offers a time-tested model of a thriving artistic network rooted in young, Black ingenuity. Local artists are fortunate to have such a successful archetype of creative independence.
"The people in Detroit gave up their dollars to come to see a Motown Revue at the Fox Theatre, they knew our routines, they knew our songs, they knew our lyrics, and they would sing along and they embraced us and loved us here in the city of Detroit. That's the reason we're famous, because Detroit embraced us," says Motown recording artist Martha Reeves.
Classic Motown is the most useful, long-lasting example of how one city can have a broad influence on the sonic world, but the story doesn't start or end there. Showing Up Showing Out honours the unbeatable Motown legacy and brings Detroit's contemporary musical artists into the frame through dreamlike sequences that meld Super8 and HD footage.
We meet singer/songwriter Supercoolwicked as she prepares to release her debut album High Gloss. Then discover harpist Ahya Simone in the tender moments she spends in the city when she isn't busy reintroducing the harp to newer, younger, cooler audiences and genres simply by being herself. Tunde Olaniran, a Flint native and magnetic pop music artist, prepares to headline Motor City Pride and shares philosophies about what unites the various communities that support him.
The beauty of being in a place like Detroit is that each of these powerhouses know each other and have collaborated or interacted before in some way. We follow Motown Recording artists past and present including Martha Reeves and Icewear Vezzo. Filmmakers Margot Bowman and Imani Mixon bring all the artists together to imagine what life would look like if we cherished the present just as much as the past. Viewers are encouraged to unearth emotions that have more momentum than nostalgia.
For article and video, click below:
Source: Watch our love letter to the attitude, style, and sound of Detroit | Dazed