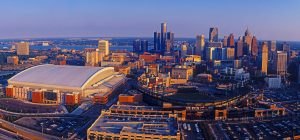 The economy in metro Detroit should continue to show modest improvement the rest of this year and next, according to PNC Bank's second-quarter market forecast.
And the relative low-cost of doing business in the region compared to other metropolitan areas in the U.S. could help drive long-term economic growth, the report said.
Unemployment in the region is expected to fall from 6.2 percent last year to 5.5 percent this year and 5.3 percent next year, with medium household income rising from $54,100 last year to $55,400 this year and $56,800 next year.
Nationally, the figures for unemployment are 5.3 percent, 4.8 percent and 4.6 percent, respectively, and the household-income figures are $55,200, $56,400 and $57,500, respectively.
The increase in house prices should continue to narrowly beat national averages. They rose 4.9 percent last year and are projected to rise 5 percent this year and 4.7 percent next year, compared to respective numbers of 4.6 percent, 5 percent and 3.2 percent nationally.
According to the report, 2016 "should see Detroit's economy posting the stable conditions necessary to help the market area sustain its turnaround from the exceptional losses of the recession. Labor markets have found their footing after a strong bounce-back year in 2015, and income growth is proceeding at a sustainable pace while consumer price pressures remain tame.
"Uncertainty regarding the local business climate is likely to persist, though to a diminishing degree over time, after the city of Detroit's bankruptcy filing and exit," the report continued.
As for the potential for longer-term economic growth, the report said: "Detroit's economic future will always include auto design and manufacturing as a primary driver (but) the next several years will feature businesses looking for expansion opportunities, and new startups searching for cost-efficient locales. Detroit's capacity to take advantage of this newfound cost strength offers the means to start defining its longer-term development path."
Source: http://www.crainsdetroit.com/article/20160425/NEWS/160429900/pnc-outlook-for-metro-detroit-sees-steady-growth