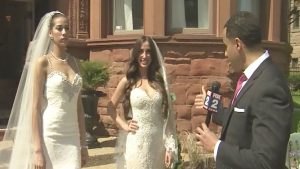 You may have seen her on the popular TLC show "Say Yes to the Dress."
Now bridal consultant Keasha Rigsby has opened the only bridal boutique in the city of Detroit – made possible in part– by a motor city grant.
We're talking about fashion, style, entrepreneurship, and yes wedding dresses, in the city of Detroit.
With the help of a $50,000 matching grant from the mayor's office, the John Bagley mansion along east Jefferson Avenue has been renovated, and is now called Beautiful Bridal.
The owner and fashion designer Keasha Rigsby says her business will provide high-end wedding dresses you typically can't find in the city.
To read more of this story, visit http://www.fox2detroit.com/news/local-news/138560960-story