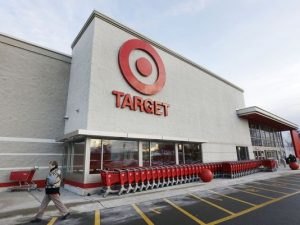 A Target store could potentially anchor a planned retail, commercial and residential project at Woodward and Mack in Midtown Detroit, near the popular Whole Foods, according to development sources.
The entire development would fit on a 9-acre site that has a long-shuttered muffler shop and American Red Cross buildings.
It would feature a newly constructed 25,000-square-foot anchor store at the corner, plus an additional 25,000-square-feet of retail space and restaurants. That extra retail and restaurant space would mostly line Woodward, but would involve a small 5,000-square-foot retail building on Mack where there is now a parking lot, according to the project's preliminary site plans.
The development also could have a new 560-space parking deck and potential space for a new hotel, offices and student housing.
Details of the still-unnamed project were revealed Thursday during an International Conference of Shopping Centers event in Novi at the Suburban Collection Showplace. Multiple development sources at the conference identified national retailer Target as the project's possible anchor tenant. Target has been opening small-store concept stores in certain urban markets, most recently in Chicago.
To read more of this story, visit http://www.freep.com/story/money/business/2016/07/14/target-store-could-anchor-midtown-detroit-development/87079238/