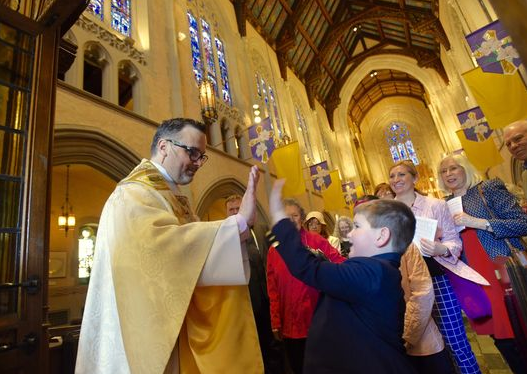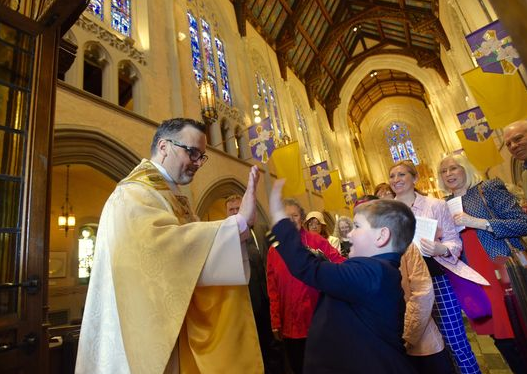 Detroit — The new head pastor of the Historic Trinity Lutheran Church used his first Easter Sunday to warn against disillusionment and encouraged parishioners and visitors to keep the faith, even when circumstances seem bleak.
For him, that circumstance happened when a call came on Sunday, March 9, 2008. It had all the earmarks of a tragedy.
"Car crash…our son's being airlifted…severe head trauma…it doesn't look good" were the words the pastor remembered hearing. It was 5 a.m. and Andrzejewski got in his car and started driving toward the hospital, expecting the worst.
Within five minutes, he began planning the 20-year-old man's funeral in his head.
"I was stubbornly and sinfully forgetting who is in charge," Andrzejewski said. "I was planning a funeral for someone who wasn't dying."
Andrzejewski likened his demeanor that day to the women who came to visit Jesus' tomb days after his crucifixion, planning to see his body. What they found instead, when the stone was rolled away, was an empty tomb, according to the story as told in the bible in the Book of Luke.
Andrzejewski said he returned two days later to the hospital room, but he didn't see the 20-year-old in his bed. Again, he expected the worst. Just that quickly, before he could get a full scan of the room, Andrzejewski had resumed his funeral preparation.
It wouldn't be necessary. The young man, very much alive, wasn't in his bed because he was sitting up in a chair. There would be no funeral.
"In that moment," Andrzejewski said Sunday, "I was as close to Easter as I've ever been."
Andrzejweski, a veteran in ministry for more than two decades, said he's learned that storytelling is an effective way to reach people these days.
These are not the old days, he said, when a pastor would be expected to simply provide the right answer. These days pastors must do the work to reach their congregation where they are. It's a two way conversation, not one individual passing on God's word and another simply accepting it.
Andrzejweski is at the head of a church with a history of continuity. While the first three pastors at Trinity Lutheran lasted less than 10 years between them, the next four held led the church for 156 years between them.
DETROIT NEWS
Pope at Easter recalls victims of 'brutal terrorism'
While Andrzejweski said he wants to "support and continue" what the church has done historically, he admits "the world is a different place," and different tactics will be necessary to reach the young people any church needs to remain viable. Storytelling is part of his plan.
"We have to almost rethink church in the sense of how we communicate the same gospel that's been with us the last 2,000 years," Andrzejweski said. "How do we communicate that same message in a different type of world?"
Grosse Pointers Fred and Christine Reif , who have been members of Trinity Lutheran for 20 years, the pastor's first Easter sermon, "very impressive."
"It's kind of a renewal of faith — that there's hope," Christine Reif said. "There's always hope, if you keep the faith."
Source: http://www.detroitnews.com/story/news/religion/2016/03/27/detroit-pastors-easter-message-urges-keeping-faith/82322300/