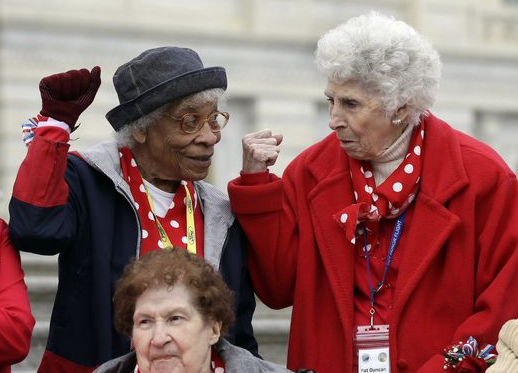 Seventy-some years later, 91-year-old Frances Reeck has no trouble remembering what she —- and her four sisters — did during World War II.
She worked in the aft fuselage of B-24 bombers being made at the massive Willow Run plant, spending eight hours a day brushing water on oxygen tanks to make sure there were no leaks. As for her sisters: One worked in an office, another in the tool room, a third as a riveter and the fourth as a bucker, a job that called for shaping the end of rivets as they were shot into place.
They didn't feel like they were doing anything particularly special, said Reeck of Adrian. It was just that everyone "was behind the war effort."
On Tuesday, Reeck and 30 other of the Original Rosies from Michigan who worked in the armaments industry during World War II — characterized by the famous Rosie the Riveter effort to bring women into the plants at a time when they were desperately needed — were feted in the nation's capital, being greeted with cheers and flowers as they landed at Reagan National Airport.
"None of us would be where we are today — the women — without what you did for us," said U.S. Rep. Debbie Dingell, D-Dearborn, who helped arrange the Honor Flight, as well as a luncheon at the Library of Congress, a photo on the Capitol steps and a visit to the World War II Memorial for the women — all of whom are in their 80s and 90s now.
"It's our honor to have you here," added U.S. Rep. Candice Miller, R-Harrison Township, who played a key role coordinating the trip as well, along with Ford, the Yankee Air Museum and Talons Out Honor Flight, which arranges free-of-charge flights for Michigan veterans to visit the WWII memorial. "We just cannot thank you enough."
"This is awesome, this is unbelievable," said a beaming Dorothy Kordich, a Clinton Township woman decked out in red, white and blue who will turn 100 years old in May. During the war years of 1941-45, she worked at the Fleetwood Fisher Body plant on Fort Street in Detroit inspecting parts for B-29 bombers.
Tuesday's celebration grew out of a successful effort last year to win back for Willow Run the Guinness World Record for the most people dressed as Rosie the Riveter gathered in the same place since WWII, after being supplanted by a site in California. The Michigan effort took back the prize with 2,096 Rosies.
But Dingell, Miller and others wanted to do something more for the group of remaining Original Rosies, noting they had never had an Honor Flight to Washington. Ford — which originally built the mile-long assembly line at Willow Run that at its peak assembled a B-24 bomber every hour — provided key support for the effort.
During the war, Willow Run employed as many as 42,000 people — as many as a third of them women. It was a time when few women did factory work. But with a shortage of men available during the war, the government started a campaign to attract women into the plants.
Kordich's husband was in the Army Air Corps during the war.
"It felt like I was helping him," she said. "I was just proud to be doing it."
"It was just something you did," said Lee Detrich, a 91-year-old from South Lyon who went to work as a riveter assembling parts for bombers at Willow Run straight out of graduating high school in Chicago. Asked if she thought she was making history by entering the manufacturing workforce at the time, she shrugged.
"I don't think I ever really felt that way," she said. "I was doing what needed to be done."
Detrich would go on to become an Arthur Murray dance instructor and a mother of seven. Asked how it was to work in Willow Run, she had one answer: "Noisy."
Dorothy Norton, 91, of Ypsilanti, remembers working as an 18-year-old secretary to the War Manpower Commission, which was charged with bringing workers into Willow Run for the war effort. Male workers would come from other parts of the country, she said, many of whom couldn't read or write. She'd be tasked with making sure to ask them their names and that they matched employment sheets. Then she'd get an "X" for a signature.
As for Tuesday's honor flight and events, she said it was "just amazing."
With the luncheon at the Library of Congress' Montpelier Room getting underway, members of the Michigan delegation to Congress circulated through the crowd, shaking hands and introducing themselves. A line of wheelchairs for several of the honored guests lined the back wall of the dining room.
"They're all fabulous," said Dingell, who had donned Rosie's red-and-white polka dot bandana and blue button-up shirt in the past for the Guinness Book effort. "Each of them is spunky and has their own stories. They're hysterical, and they're real."
More than that, she said, they helped take the first steps that opened the workplace to women for good.
"It's a great celebration of history and the women who went before us," Dingell said.