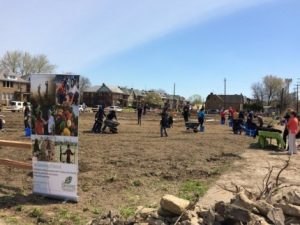 Four lots on a corner surrounded by numerous vacant buildings and homes on Detroit's east side will soon be a green oasis.
Volunteers from The Greening of Detroit, Osborn Neighborhood Alliance, American Forests and Bank of America started work Friday with children from the Osborn neighborhood on what will become an outdoor education center for the neighborhood.
Those present said the project is a sort of centerpiece for the neighborhood to corral around, and a much needed investment in a neighborhood far outside the reach of downtown Detroit.
"We want to help with that," Blake Pollock, senior vice president with Bank of America, said as kids and volunteers cleared the freshly turned earth of rocks Friday.
Pollock said bringing the kids in for help on the project will give them a sense of pride in the green space, which will have indigenous plant species aimed at bringing birds, butterflies and bugs to the area.
To read more of this story, visit http://www.mlive.com/news/detroit/index.ssf/2016/05/vacant_lots_turned_into_outdoo.html