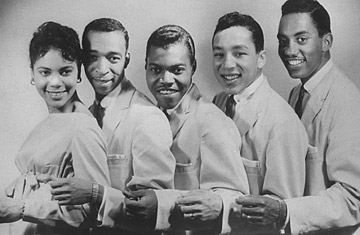 Above the front windows of Motown Records' Detroit headquarters was a sign that read "Hitsville U.S.A." Placed there by Motown founder Berry Gordy soon after his company moved into the modest home at 2648 W. Grand Blvd, the sign demonstrated Gordy's blazing — and at the time, unearned — arrogance. Then the slogan came true.Founded on Jan. 12, 1959, Motown quickly became another Detroit factory; where the Big Three produced automobiles, Motown assembled the soul and pop classics that changed America. There's no hyperbole in that statement. Arriving at the height of the civil rights movement, Motown was a black-owned, black-centered business that gave white America something they just could not get enough of — joyous, sad, romantic, mad, groovin', movin' music. (See an audio slideshow of five of Motown's best tunes.)
A former boxer and automobile worker, Berry Gordy was a nascent songwriter when, at the urging of Smokey Robinson, a songwriter ten years younger than Gordy, he decided to establish Motown Records. The two had become friends years earlier and Robinson, who was the lead singer of a band called The Miracles, produced, wrote, and sang several of Motown's most memorable hits — including the labels' first smash song, "Shop Around" in 1960. A year later, "Please Mr. Postman," by The Marvelettes, was the label's first No. 1 song. It would not be the last.
Over the next decade, the sheer number of chart-topping artists, musicians, and groups produced by Motown defied comprehension: Martha and the Vandellas, Smokey Robinson and the Miracles, The Temptations, The Four Tops, Diana Ross and the Supremes, Gladys Knight and the Pips, The Jackson 5, Stevie Wonder, Marvin Gaye. All became part of what would come to be known as the Motown Sound. It is rumored that Gordy modeled his hit factory after the Detroit car assembly line that he knew so well: Make a good product, then make something similar, and make it quick. Over here were the songwriters — Robinson and the team of Eddie Holland, Lamont Dozier, and Brian Holland (Holland-Dozier, Holland, or H-D-H). Over there was the talent — Stevie Wonder, whom the label discovered when he was 11; Marvin Gaye, who wanted so much to be a jazz crooner before he came into his own in the late 60's; and, above all, Diana Ross, whom the label put its stake in early on, and who was told so many times that she was a star that she drove off one of the Supremes before quitting to launch a solo career. In a neglected corner were the session musicians the Funk Brothers, who played on God knows how many hit songs. Let's just say a lot.
Read more: http://content.time.com/time/arts/article/0,8599,1870975,00.html#ixzz2f7EFUlv6