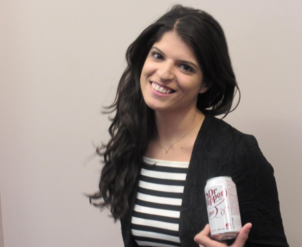 Dearborn native Diana Hussein had no idea that when she picked out her very first Twitter handle in March 2009, she would be laying the foundation for a selfless act of charity.
Hussein, now 29, was in her early 20s and enrolled in the University of Michigan-Dearborn's Communication program when she first discovered Twitter, the popular social media networking application that allows users to post and read phrases in 140 characters or less.
She chose the handle, or screen name, of "@DietDrPepper," because she happened to have a bottle of it close by.
"All I drank was Diet Dr. Pepper — it was my caffeine," Hussein said.
Hussein said she picked a project for class about Twitter and blogs intentionally, so she could not only see how it was used, but also to try to persuade her professors that Twitter could be helpful to businesses and brands in general.
"I wanted to see what it does and how it functions," she said. "I saw that it was a useful tool."
Hussein has since become known in the community and across the country for offering to trade her Twitter handle for a large donation of bottled water to the Flint water campaign.
"I wasn't thinking 'what can I get for this?'" she said. "It was more of a thing where a friend and I were sitting around, and I joked that we could donate pop to Flint, and my friend told me that Dr. Pepper had a water brand too, and it just clicked."
Hussein first contacted Diet Dr. Pepper in 2013 to see if they needed the handle, and to make sure that if she changed her name on Twitter, that Diet Dr. Pepper would definitely be the ones to take over the handle.
"It was time for me to grow up, and I felt like I should be representing 'my own brand,'" she said.
She wanted to make sure that the handle didn't fall into anyone else's hands besides Diet Dr. Pepper. Even though she was never really mistaken for the pop company, she had no idea what other people would do with it.
"At first, it [Twitter] was nice," said Hussein. "And then random people started following me and commenting, and I wanted it to get to Diet Dr. Pepper. I wasn't trying to be responsible for their brand presence."
The soft drink company then reached out to her this past January.
"In early January, we made a sizeable contribution of water through our Flint sales and distribution branch to a number of community organizations," said Diet Dr. Pepper Brand Public Relations representative Brian Bell in an email statement. "Recently Diana Hussein presented us with a fantastic opportunity to help further by providing more water in exchange for the @DietDrPepper Twitter handle, and we jumped at this opportunity."
Because of Hussein's initiative, the Twitter trade enabled Diet Dr. Pepper to donate an additional truckload of water to the Flint water collection campaign. The truckload consisted of 24 palettes of 72 cases of 24 packs of water each, or 41,000 bottles of water equaling $5,000.
"Rather than accepting any compensation for this Twitter handle as many might expect," said Bell, "She put the needs of her community first and we were happy to oblige."
"They were very receptive," Hussein said.
Hussein said she is glad she can do something not only to help the city of Flint during its water crisis, but also to be able to bring positivity to Dearborn and the Arab American community at a time when publicity can be negative.
"There is a lot of interest these days on Dearborn and all these fake stories on how we are supposedly operating under sharia law," said Hussein. "But this is what actually happens in Dearborn."
Hussein is impressed by how people all over the globe are coming together to help Flint as it struggles to deal with an ongoing public health crisis.
"The greatest thing," said Hussein, "Is that Arab Americans and Muslim Americans across the country are reaching out to say 'thank you,' but overall, I have been very impressed with the number of people who care about Flint — people from California, Canada, all over."
Even Dearborn City Council President Susan Dabaja reached out to her.
"She thought what I did was inspiring," said Hussein, "which means so much from her, because she's someone I've felt inspired by. It was just a really, really nice, unnecessary gesture!"
"Diana embodies so many great qualities," Dabaja said. "Her selfless act fills my heart with joy because I know this is a generation full of promise. Diana is an emerging leader and this is just one of the many ways she has helped give back to her community."
Residents of Flint have been poisoned from toxic levels of lead in the water supply after the city switched from the Detroit Water and Sewerage Department to the Flint River. The city has been in a state of emergency since December 2015.
For ways to help, visit https://www.cityofflint.com/how-can-i-help/.
"I don't want to sound self-righteous," Hussein said. "But I didn't think I was doing anything heroic. Who wouldn't do the same thing?"
Find Hussein on Twitter at @heyadiana.
Source: http://www.pressandguide.com/articles/2016/03/31/news/doc56fdd7c189ec4204416113.txt?viewmode=fullstory