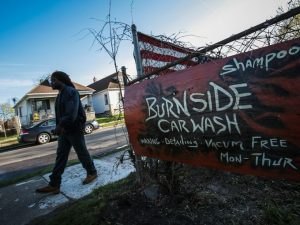 Two brothers in a dying neighborhood draped an American flag on a fence. And it became an icon.
The flag began as the signpost for the Burnside Car Wash, located along the curb between a vacant house and an empty field on a remote side street in northeast Detroit. It's not advertised and isn't listed in any directory, yet the cars usually lined up waiting their turn for a hand wash suggest it's one of the most popular car washes in the city.
This homemade business began when the two brothers got laid off from their jobs and wound up back in their old neighborhood. To get by, they started a car wash in front of their house with little more than a hose, some soap and a vacuum cleaner.
"It just grew on from there," said Erik Pritchett, 38, who started it with his brother Chris. "We were like, 'Hey, it's drawing attention and drawing people to want to come here and feel what we we're going through.' So we kept it up."
They hand-painted a sign on an old piece of wood, offering a wash, a wax and detailing. Almost as an afterthought, they draped a long, bright, clean American flag they'd found over the fence across the street as their logo. And though their unique business would soon became famous in the neighborhood, that flag wound up taking on a life of its own.
To read more of this story, visit http://www.freep.com/story/news/columnists/john-carlisle/2016/05/08/homemade-car-wash-brings-life-to-dying-neighborhood/83540958/