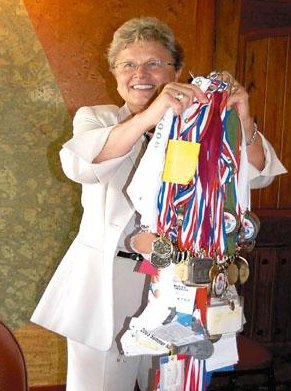 While all Senior Games athletes strive to perform at their best, the reasons vary as to what motivates them. Some still have the burning desire to win and earn medals, while others seek to maintain health and vitality, to set goals, to measure and compete against themselves over time, or simply to enjoy participating in sport and the camaraderie found in The Games. In truth, the motivation is usually a combination of these and other factors.
Marika Vorosmarty-Blumerick's motivations are remarkable because she approaches her game as a Deaf athlete competing in a hearing world.
In 1945, when she was 11 months old, Marika's family sought to escape from the unrest in their home country of Hungary. A bomb exploded on a nearby bridge while the family was traveling on a ferry. The explosion deafened the infant. She was also subsequently diagnosed as "shell-shocked" from the experience. Doctors were able to cure the ailment through electroshock therapy, but her hearing remained lost.
Eventually, her family moved to Michigan through a church relocation service and the International Refugee Organization. Marika went to Michigan School for the Deaf (MSD) in Flint and learned American Sign Language. She found her community, and it was there she discovered how much she enjoyed and excelled at all kinds of sports with her peers. But communication barriers have been a constant in many aspects of her life, including sports. When she began competing outside of her own school, she was left at the starting line in a track race wondering how everyone else knew to begin- the start signal was a gunshot. Later, at Michigan State University, she won a match in a fencing tournament where she was the only female in the competition. A male competitor, angry about losing to a Deaf woman, intentionally poked her in the chest with his foil.
The embarrassing incident almost caused her to quit sports, but Marika used it as motivation to grow instead. She has fought to silence those who said she wasn't qualified or able in every aspect of her life. Sports at her school gave her a platform to succeed early, but she stepped off the field to focus on the priorities of career and raising three children until she could get back in the game later in her life. Professional credits are many, including being the first certified Deaf substance abuse counselor in the State of Michigan, a practice she held for over two decades; serving as a gubernatorial appointee to both the Michigan Board of Mental Health and the Division on Deafness; holding many past and present board positions in organizations of and for Deaf people, and she continues to be an American Sign Language instructor at Macomb Community College. She has also been an active volunteer with various charities, and has been a valued ambassador for Michigan Senior Olympics, which inducted her into their Hall of Fame in 2015.
In 1997, Marika won her first medal as a senior athlete. She set a goal to win 100 medals, not out of pure desire for the awards, but to make and fulfill a promise to her parents to honor them for their unfailing encouragement and inspiration to overcome any challenge in life. Once the goal was achieved at age 65, she immediately set a new goal to win 200. She has enjoyed a variety of sports, choosing to qualify and compete in Track and Field and Pickleball in recent National Senior Games appearances. She's a fierce competitor, but the satisfaction comes from validating her inner sense of self-worth, and to demonstrate by her own example that anyone can succeed over obstacles and barriers in life if they put their mind to it. Marika
Vorosmarty-Blumerick has been an achiever for her entire life despite the challenges. To her thinking, she has been given much and feels it is imperative to give back and enjoy the gift of life with a smile. To our thinking, she has transformed the lack of a sense of hearing into a sense for success in life. That much is loud and clear.
For the Whole Article and More Picture Click Here for the PDF
Link to Michigan Senior Olympics Website