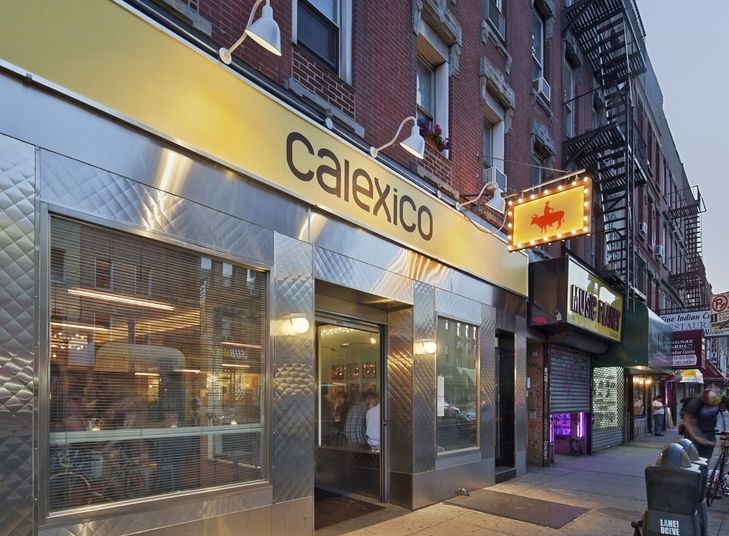 Photo by Calexico. Calexico Detroit's menu will include burritos, bowls, tacos, enchiladas and cocktails.
The new Calexico Detroit Inc. restaurant by franchisee Randy Dickow is planned for the former Olga's Kitchen Inc. space inside the One Campus Martius building in downtown Detroit this summer.
Dan Gilbert's Bedrock Real Estate Services LLC, which co-owns the 1 million-square-foot building with Detroit-based Meridian Health, announced the restaurant Tuesday morning inside the new space.
Based in New York City, Calexico's first location outside of New York is expected to employ 70 people full time and seat about 130 guests.
Crain's first reported Monday that Dickow — who co-owns the Lunchtime Global, FreshiiDetroit and Sweet Lorraine's Fabulous Mac n' Cheez in the Renaissance Center — is opening the new restaurant, which a source described as "upscale Mexican with a bar."
Dan Mullen, executive vice president of Bedrock, said during Tuesday's announcement that he traveled to Brooklyn, where Calexico began, to try the concept.
"It was so unbelievable, I knew this would be a home run here in Detroit," he said.
The restaurant menu will include burritos, bowls, tacos, enchiladas and cocktails.
Calexico, named after a California town on the Mexican border, was founded a decade ago by brothers Jesse, Brian and Dave Vendley.
Derrick Rassam, previously of Mad Hatter bistro, bar and tea room on North Old Woodward in Birmingham, will be executive chef of the Calexico Detroit restaurant, according to a Bedrock news release.
Dickow said during the news conference that he approached the Calexico owners about bringing their concept to Detroit. "I said, 'Give me one day of your time,'" Dickow said. "By the end of the night, it was unanimous."
The Calexico chain includes three food carts and four restaurants in New York City, according to the release.
The project architect is John Janviriya.
In September, Olga's Kitchen announced it would close its One Campus Martius location, which opened in April 2012, after reaching an agreement with Bedrock to forego its remaining lease there, formerly the Compuware Corp. headquarters building.
Michael Kosloski, senior vice president and COO of Olga's Kitchen, called the closure in that announcement "a necessary next step for our company and the continued health of all of our operations as we look toward the future."
Olga's filed for Chapter 11 bankruptcy protection in June in U.S. Bankruptcy Court in Detroit, citing millions in debt to dozens of creditors, including $2.4 million to Citizens Bank and $1.2 million to food distributor Sysco Corp.
In December, SOK Venture LLC, an affiliate of Livonia-based Team Schostak Family Restaurants, made its buyout of Olga's Kitchen official with the closing of a deal to purchase the assets of the bankrupt restaurant chain — including trademarks, recipes, all locations, equipment and operational teams.
Final terms of the deal were not disclosed, but SOK was able to complete the deal following its winning bid of $10.95 million at a November auction.
There has been a years-long legal battle filled with allegations that Robert Solomon, the Olga's chain's longtime owner, siphoned money and imperiled the eateries.
Source: http://www.crainsdetroit.com/article/20160308/NEWS/160309858/calexico-detroit-restaurant-to-open-downtown-this-summer