Mission BBQ is a popular restaurant chain that has been making waves across the United States. The restaurant chain's mission is to serve delicious BBQ food while also honoring the brave men and women who have served the country. Here are a few reasons why I would highly recommend Mission BBQ:
Quality Food: Mission BBQ serves a range of delicious food items, including brisket, pulled pork, ribs, and chicken. All their meats are smoked low and slow for hours to achieve that perfect tenderness and flavor. Their sides and desserts are equally impressive, with options such as mac and cheese, baked beans, and banana pudding.
Patriotism: One of the things that sets Mission BBQ apart from other restaurants is their commitment to honoring the country's military and first responders. The restaurant features a "Wall of Honor," which showcases pictures of military and first responder heroes. Additionally, each day at noon, Mission BBQ plays the national anthem and invites customers to stand and show their respect.
Community Involvement: Mission BBQ is also heavily involved in the local communities they serve. The restaurant frequently donates food to first responders and military organizations, and they have also contributed to charitable organizations, such as the Wounded Warrior Project.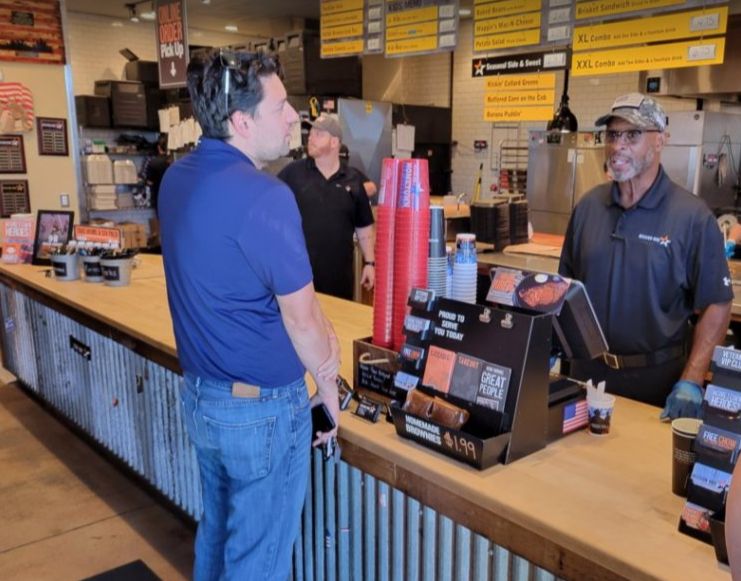 Customer Service: The staff at Mission BBQ is friendly, helpful, and always willing to go the extra mile to ensure customers have a great experience. Whether you're a first-time visitor or a regular, you can expect to be treated with the same level of kindness and respect.
Overall, Mission BBQ is an excellent choice for anyone looking for delicious BBQ food and a patriotic atmosphere. With its quality food, commitment to honoring the military and first responders, community involvement, and excellent customer service, Mission BBQ is a restaurant that truly stands out.