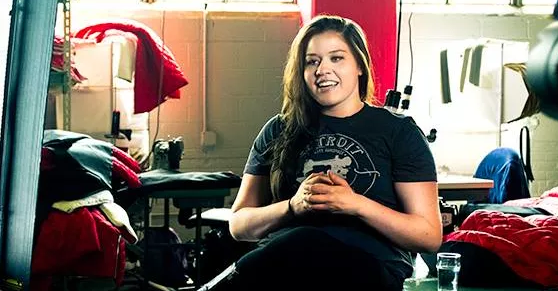 Detroit (CNN)
By Marissa Calhoun, CNN
Six years ago, Veronika Scott accepted a challenge from her college professor: Design something to "fill a need" in Detroit.
Scott, an art student, found her inspiration on the streets.
"In Detroit, there's this large homeless population, and they kind of just disappear into the landscape," Scott said. "I wanted to design for this whole population of people that we just don't see."
In 2010, Scott created a fully insulated, waterproof jacket that converts into a sleeping bag and knapsack. She called it the EMPWR coat.
'If it weren't for this coat, I wouldn't have made it'
"So many people on the streets are wearing somebody else's trash," said Scott, now 26. "The coat itself was meant to offer people warmth…but also to give them a little bit of pride."
But Scott's work was far from finished. As she handed out the coats one day, a woman in a shelter shouted, "We don't need coats. We need jobs."
Today, Scott and her nonprofit, the Empowerment Plan, hire homeless individuals from local shelters to help manufacture the coats. Employees receive training and other support services to help them get their lives back on track.
Since 2012, the group has made and distributed more than 15,000 free coats for the homeless nationwide and around the world.
CNN's Marissa Calhoun spoke with Scott about her work. Below is an edited version of their conversation.
CNN: You started your nonprofit right after graduating college. How did people react?
Scott: I was surprised by the fact that everybody told me I was going to fail because I wanted to go into shelters and hire people. One person said, point blank: "You're never going to get a homeless person to make a peanut butter and jelly sandwich, let alone a coat." And for me, that was the most shocking thing because that's not true at all.
Today, Empowerment Plan employs 22 previously homeless parents. And (they) are absolutely, mind-blowingly amazing. So if there was a weak point in my business plan, it sure as hell wasn't me employing them.
For us, it's about showing employers that the people we hire aren't just good for us, they are an asset to any company—it's just about looking beyond what's on paper.