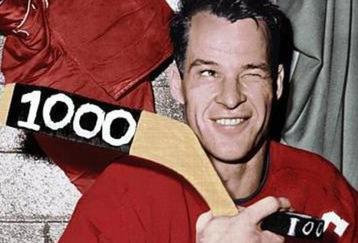 By Bobby Barton
Mention the Detroit Red Wings to a hockey fan and you can be assured of a reaction. Nowadays, they have taken on the nature of the New York Yankees of baseball – people either love them or hate them. This is really not too surprising. The Wings, like history's greatest baseball team, have become a model of success. Consider that the Red Wings have won more championships than any other U. S. Based team. Moreover, they are third among all teams for most number of Cups. With this as a backdrop, let us take a look at a little bit of their rich history.
The team became a part of the National Hockey League in 1926. They actually played their games in Windsor, Canada during their first year. Their nickname then was the Cougars. They did move to Michigan for their second season, playing at the Detroit Olympia. Neither of these years was particularly kind to them. Their debut season ended with them in last place and the second season they finished fourth.
But fans really did not have a long wait to see their team succeed. The Cougars reached the playoffs on 1929, though they lost to the Toronto Maple Leafs. In 1932, they changed their name to the Red Wings. This change in name seemed to bring about a change in their luck. Between 1933 and 1966, they made it to the playoffs all but four times.
Detroit made it to their first Cup final series in 1934, pitted against the Chicago Blackhawks. This was exciting for the fans, though they did lose that series 3-1. They returned to the Championship Series again the following year with a different outcome. This time their opponent was the Maple Leafs, whim they beat in four games. What is more impressive is that they followed through the next year with a victory over the New York Rangers.
1946 saw the dawn of one of hockey's greatest and most recognized players. Hailing from Saskatchewan, Gordie Howe went on to become a legend and hall of famer. His nickname is "Mr. Hockey" and with good reason. For one thing, he is the only hockey player to have competed in five different decades – from the Forties through the Eighties.
Adding to the justification of the nickname is his multitudes of accomplishments on the ice. He played with four Stanly Cup winning teams, led the league in scoring six times and took home six MVP awards. When Howe was 80 years old, he was presented with the first ever Lifetime Achievement Award.
Howe's teams did not enjoy ongoing success. The Red Wing team ran into a terrible stretch between the years 1967 and 1983. Much to their fans' frustration, the team qualified for the playoffs exactly twice, and winning but one series.
Nowadays, the team is simply good. There is no other way to say it and there is no arguing it. After surviving those dreaded years, the Wings have played consistent hockey. They have been in the playoffs every single year since 1990, a streak that is the longest of any sport.
Bobbie Barton is a fitness trainer She likes SportsFanTreasures.com and recommends you check out their info on New York Rangers Bedding and Tampa Bay Lighting Watch