visit our website

Happy Spring  


Part Time Instructor Needed
Arts & Scraps instructors travel throughout SE Michigan, with a focus on Detroit.  They lead student, adult/child workshops, birthday parties and creative activities at public/private events.
They drive the 26′ ScrapMobile which requires a Chauffeur's license and may use their vehicles at times with reimbursement.
Instructors also lead field trips and birthday parties at Arts & Scraps and make welcome and supervise volunteers.
Lessons and projects are already developed and aligned with school curriculum, but there is creativity in their presentation.  Click for information.
Ages served range from 3 to adult.
There is a potential management position with additional hours/duties for the qualified candidate.
Hours
This is a part time position, with hours weekdays and weekends.  No hours are guaranteed, although there will usually be 10 to 20 hours a week available.  All programs are posted and staff chooses the ones they would like to lead.  Check our calendar for frequency of classes in various months.   Summer is extremely busy.
Qualifications
– paid experience with groups of children, advanced education or certification preferred
– responsible, must be timely
– lift 25 pounds
– understand that Arts & Scraps challenges students to think independently and explore their unique ideas, not make a specific item
– be able to email and use basic computer programs
Benefits
– flexible schedule, paid for all the time you work
– after 1 year, 1 week paid vacation, retirement program w/a 3% salary match
to apply, email resume and three references to contact@ARTSandSCRAPS.org
Those chosen for interviews will be contacted.  Part of the interview process is volunteering with a program.
---
Spring Fabric Sale


12 tables stacked high with fabric! Shop from samples from the store Express in New York, 7′ wide ticking from a mattress company (some is quilted, think quilt backs) and lots of new fabric on rolls and flat bolts.  NEW:  foam from the same mattress factory, twin to queen sized, 1″ to 3″ thick.
Preview Party Friday March 30, 6 – 9 PM
$10 admission donation for school programs, bags $9–get first pick and support hands-on learning.
One Day Only  Saturday, March 31, 11 – 4
     Stuff a bag for $8
Want to volunteer during the sale or on Monday April 2 from 9 -12 to put fabric away?  Monday volunteers get a free bag of fabric.
Email volunteers@ARTSandSCRAPS.org or call 313-640-4411 x 5
---
STEM Awareness Week March 25 – 31
STEM = Science, technology, engineering, math.  This upcoming area of concentration, fun thinking and jobs is the focus of a statewide celebration.
Sunday, March 25  12:00 – 4:00 Parade Company  
free admission and parking
Saturday, March 31  9:30 – 3:00 The Henry Ford Rouge Factory Tour
parking is $5, get free tickets for the tour here–limited quantities, preorder only–no free tickets the day of the event
Come see how businesses, nonprofit organizations and goverment incorporate STEM.  See how The Parade Company uses math to create floats, TACOM (US Army) uses engineering to invent systems, watch the Ford robots help assemble car and more.  Arts & Scraps will have a hands on center at The Parade Company.  Want to volunteer?  Email volunteers@ARTSandSCRAPS.org or call 313-640-4411 x 5.
---
Gold Dots!
Wait 'till you see this–it's magic.  Press one of our sticky dots on this gold leaf, pull back off and it's gold.
Packaged 35 dots and gold leaf, $1.00


---
sticky precut shapes, 2″ to 4″
SALE:  The outside frames are now 1/2 price, only $0.50 for a package of 10.
The insides are now displayed by groups of 10 for $1.00 or individual shapes for $0.10 each.
Peel the back, add small decorations of your choice and dip in colored sand, $1.00 for 8 oz. which dips about 30 shapes.
---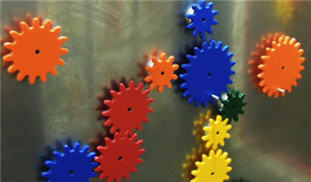 Volunteer Needed to Cut Gears
We're designing a gear wall for Maker Faire in July.  It will be 4″ to 12″ gears that can mount on pegboard and interlink so one gear can turn many.  Would someone have the equipment, time and interest to cut the grears?  We will probably use 1/4″ Masonite board and stack/glue two gears together.   Please reply, email upmeyer@ARTSandSCRAPS.org or call Peg 313-640-4411 x 8.
---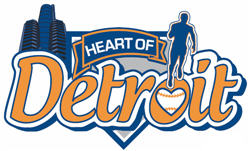 Heart of Detroit Run/Walk in August
Anyone interested in Team Arts & Scraps for a 5K or 10K run at 8:30 am or 1 mile walk at 10:00 am?  This great charity event ends on the field of Comerica Park.  There is an activity center and expo for the whole family.  All walkers get a t-shirt.  You must register in advance, with a fee of $13 for walkers and $32 for runners.  You are asked to collect pledges for Arts & Scraps. Want to participate?  Please reply, email upmeyer@ARTSandSCRAPS.org or call 313-640-4411 x 8.
---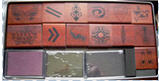 Stamp Kits Reduced–only $2, case of 24 is $40
We still have some Martha Stewart Living stamp kits left and have reduced them to only $2.  They include 13 wooden stamps and 6 different stamp pads.  They are themed for breast cancer but are interesting shapes that could be used to make cards or name tags, pushed into clay, or colored with markers.
---
Go Green and Opt Out of Junk Mail
Here's a PDF from Tech Soup, an amazing nonprofit tech resource, about reducing the paper that enters your home or business.
---
Recent Grants
We earn much of the funds needed to recycle 28 tons and serve 275,000 children, but need outside assistance to keep prices affordable.  Many thanks to:
Ronald McDonald House Charities:  $2,550 for supplies and equipment; sealers, dies, plastic bags for kits and scissors
Combined Federal Campaign:  $3,021 in donations from federal employees through payroll deduction; program expenses
Young Woman's Home Association:  $2,000; scholarships for underserved students
Kroger Community Rewards:  $53 quarter 2; 23 households registered–you can help also, register once a year  click here
---
Thank You to Groups Volunteering at the Warehouse during March
Your group could volunteer, too.  Call Matt at 313-640-9050 to schedule.  Maximum of 20 participants, ages 8 and up.
Creative Employment Opportunities
SER Metro Detroit
Circle K, Wayne State University
Macomb County College
Downriver CARES Americorps
Lawrence Tech University
City Year Detroit
Ford Motor Company
Detroit Job Corps
IMPACT
---
Wish List
quantities of like-sized paper or plastic bags, logos OK, need not be new, MUST be clean
quantities of like-sized cardboard or plastic boxes, logos OK, need not be new, MUST be clean
inkjets, laser cartridges for recycling
33 gal. garbage bags (yes, even we have garbage)
cleaning supplies, brooms any size, can be used
lightweight display system for conferences, events
heavy duty shelving
tape to seal boxes
---
Volunteers Needed
We have worked hard to welcome donations from individuals, now we need people to help sort them!
Could you drop in for an hour or more on a Tues., Thurs. 11-6 or Sat. 11-4 and help?
It's interesting and rather addictive–you never know what will arrive.
---