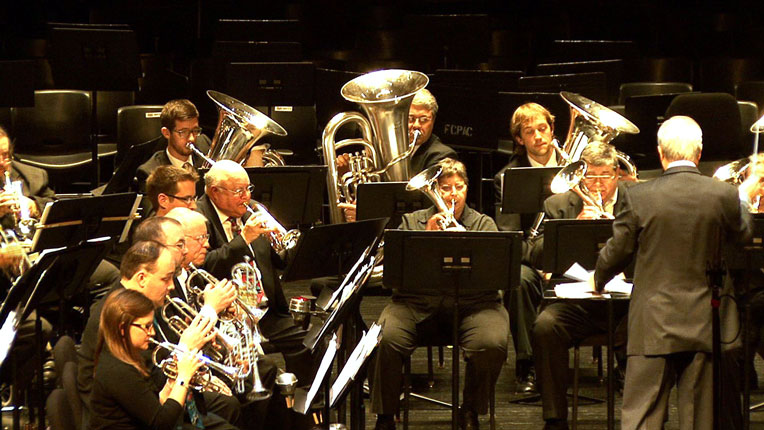 Motor City Brass Band's motto is, "It's more than a concert, it's a show!" And what a show it will be on Dec. 8 when the band strikes up at Woodside Bible Church in Troy. The show, Holiday Brass, begins at 3 p.m. Admission is free, so round up family and friends for a musical holiday celebration. No registration or ticketing is required for the open seating event. Woodside is located at 6600 Rochester Road, between Square Lake and South Blvd.
In addition to Christmas and holiday music, choirs from Woodside will join Motor City Brass Band (MCBB) in three Christmas favorites, "Angels We Have Heard on High," "Joy To The World," and "Do You Hear What I Hear?"
Thirty performers make up the band; all are volunteer, amateur musicians from the metropolitan Detroit area. Craig Strain is music director and conductor. The musicians are diverse in their professional backgrounds, including current and former band directors, engineers, salesmen, technology professionals, teachers, lawyers, and electricians. "We even have our own dentist," said band member Mark Stephens. Stephens also plays in the orchestra that is part of worship at the 8:30 a.m. service at Woodside's Troy campus. In September, MCBB recorded a CD which will be available for the first time at the Holiday Brass concert. "This concert is being presented to Woodside as a thank you for allowing us the use of the auditorium to record," said Stephens. "One defining quality of our band is the incredible variety of music that we play. Classical, Broadway, marches, opera, country, jazz, movie music, and even classic rock are all in our repertoire," said Stephens. "And every concert is programmed so there will be something for everyone. Best of all, we have so much fun on stage, that the audience ends up having just as much fun as we do!"
MCBB was established in 1996 by John Aren, a Salvation Army officer and former member of the then current National Champion Illinois Brass Band. Musical Director Craig Strain has been at the helm as conductor, arranger, and composer for the group since its inception. Motor City Brass Band presents/2 The group is known throughout Michigan, as well as Illinois, Kentucky, Minnesota, Ohio and Ontario, Canada, for its performances. The ensemble has performed at Kennedy Center for Performing Arts in Washington, DC, and with the Detroit Symphony Orchestra at Greenfield Village.
The band released its first CD, "After Five," in 2001. In 2005 MCBB participated in its second US Open Brass Band Championship held in Arlington Heights, Illinois and won the award for Best performance of a March (Death or Glory) as well as taking Second Place in the overall The Band released its first CD, "After Five," in 2001 and followed with seven more including the one being released on Dec. 8 at Woodside. MCBB initiated the Motor City Festival of Bands in 2010, bringing together some of the finest community and brass bands in Michigan to perform separately, and as a massed band. The massed bands have been conducted by such notable figures as Leonard Slatkin, Music Director of the Detroit Symphony Orchestra, Charles Greenwell, also from the Detroit Symphony, and William Himes, noted composer and conductor.