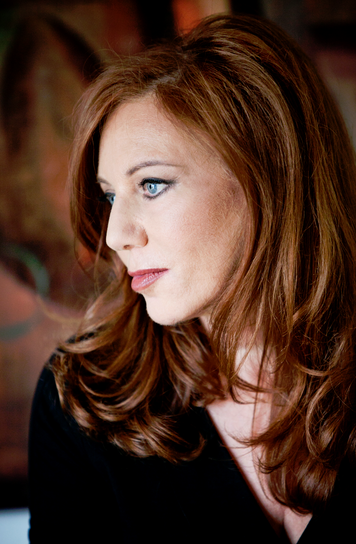 The Jewish Community Center of Metropolitan Detroit's The Active Life will host Jazz at the J, featuring Kathy Kosins in concert, at 7:30 p.m. Tuesday, September 1, at The Berman Center for the Performing Arts, 6600 W. Maple Road in West Bloomfield.
Kosins, with her trio of Cliff Monear, Marion Hayden and Sean Dobbins, will present an evening of song that draws from the jazz history of the West Coast Cool Movement, plus material from Kosins' touring show "The Ladies Of Cool" and selections from her soon-to-be-released CD "Uncovered Soul," which focuses on how the Detroit of the late '60s and '70s shaped music worldwide.
In addition to her work as a jazz singer, Kathy Kosins is a painter whose abstract acrylics are influenced by the Cubist works of the '50s. During her performance at The Berman, Kosins will paint one or two pieces to be auctioned during intermission, with half the proceeds benefitting the JCC.
A native of Detroit, Kosins is an ASCAP award-winning performer and was honored as Jazz Composer of the Year by the Michigan Council for the Arts. She began her career singing and arranging background vocals for producer Don Was. Her CDs include "The Space Between," "Mood Swings," "Vintage," and "To the Ladies of Cool," honoring greats like Julie London and Anita O'Day.
Tickets for the event are $15 in advance and $20 at the door. A ticket for the entire Jazz at the J series also may be purchased for $45 and includes performances by Bill Meyer on October 14, Terry Lower on November 17 and Jon Milan, David Bennett and Matthew "Boogie Woogie Kid" Ball in "From Ragtime to Rock-n-Roll" on December 9.
To purchase tickets, call The Berman Center for the Performing Arts at (248) 661-1900 or go to theberman.org.
For information about The Active Life, contact Rosa Chessler at (248) 661-1000 or rchessler@jccdet.org.