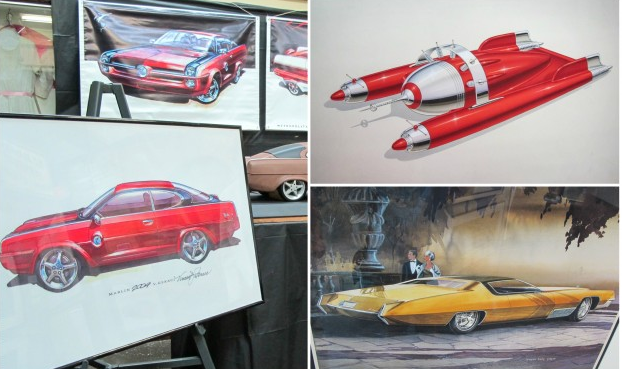 Once some folks start dreaming up car designs, they can't stop. That was evident at a recent gathering of more than 20 retired designers in the Detroit inner-ring suburb of Royal Oak, Michigan. We button-holed a half-dozen, nearly at random, and asked them to discuss their imaginings as rendered in ink, chalk, pencil, paint, and clay.
The occasion was a three-fold celebration of mid-20th-century car design. A reception for an exhibit supporting the in-production documentary film, American Dreaming: Detroit Automotive Styling, 1946–1973 coincided with a gathering of the League of Retired Auto Designers, a lively club co-founded by the late GM design chief Chuck Jordan, whose members stage annual shows of new work. Plus, it was the 90th birthday of Bill Robinson, who'd followed his own substantial career as a designer with teaching at the College for Creative Studies (CCS), training new generations in the trade.
Amid all that, these accomplished designers, all credited with well-known cars, really lit up when we asked about fantasies that weren't tied-down to marketing and production constraints.