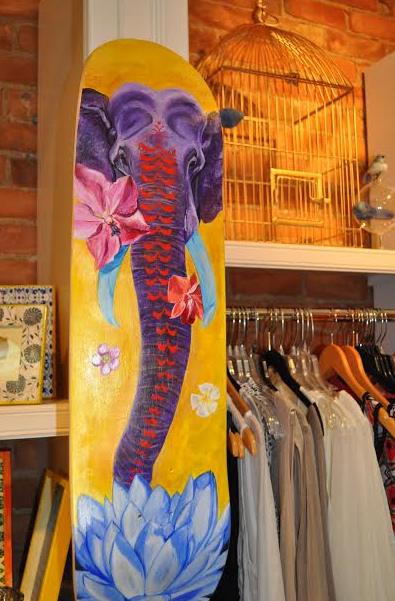 This year, over 400 artists from all over metro Detroit, Washington, and Kentucky as well as 58 downtown Rochester businesses are participating in Deck Art 2015. In its fifth installment, Deck Art 2015 is a skateboard art competition and exhibition. Artists provide one-of-a-kind artwork using skateboard decks as a canvas. These decks will be displayed in downtown Rochester businesses beginning May 14th and will be celebrated with a two-day event on May 14 & 15.
The Thursday Night Kickoff will take place on May 14 from 5:00 – 9:00pm. Attendees will preview Deck Art 2015 and enjoy a variety of in-store promotions offered by participating businesses. The streets will be alive with outdoor eats from Bologna Via Cucina, Rojo Mexican Bistro, O'Connor's Public House and Main Street Shawarma Burger; enjoy side street entertainment, indoor musical entertainment, a kid's art activity and more! The Thursday Night Kickoff is a partnership between the Rochester DDA, and founder of Deck Art, Linda Gallaher of South Street Skateshop.
 "The DDA is ecstatic to partner with Linda once again for the Thursday Night Kickoff", said Stephanie Hellebuyck, DDA Events Coordinator. "What's great about this event is that it widely appeals to all businesses, and draws in a crowd diverse in age, gender, and interests. Between the art, shopping, entertainment and food, there's truly something for everyone."
 In addition to Thursday's event, Deck Art 2015 will continue on Friday, May 15 with the official Competition and Exhibition Crawl from 5:00 – 9:00 pm. The Crawl will begin at any participating business where attendees and artists can pick up the official "Crawl" maps. Artists are not given the location of their artwork, so they must "crawl" from business to business until their artwork is found. Public vote will determine the winner within each of the six categories, winners will be announced Saturday May 16th. Food stations will be located at E. Fourth and Main Street, along with street-side entertainment from the Saline Fiddlers from 7-9 and more.
 "Deck Art continues to grow and evolve year after year," said Linda Gallaher, owner of South Street Skateshop, and co-founder of Deck Art. "It's expanded from an event that originally took place in just two downtown businesses, and I'm excited to see where it goes in the future. Deck Art 2014 had 420 participating artists and 56 businesses. Artists submitted work from California, Kansas, Ohio, Indiana, Illinois, Arizona, and Canada".
A list of participating businesses who will display Deck Art can be found at DowntownRochesterMI.com. Awarded Artists will be listed on South Street Skateshop's website, www.southstreetskateshop.com, after May 15. All artists have the option to sell their artwork. Specific details can be found listed next to each entry. For more information, please call the DDA at 248.656.0060 or South Street Skateshop at 248.651.0555.