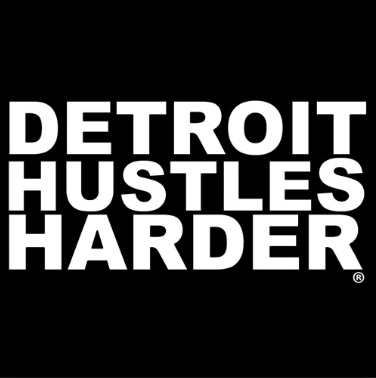 A popular Detroit clothing brand is going back to its roots. Detroit Hustles Harder has relocated to the original first floor storefront of the centennial-old building where their popular merchandise operation started 12 years ago.
The fully renovated space quietly opened mid-July, with the celebratory grand opening being held on July 27. The event is open to the public and will include a food pop-up, D.J., a promotional sale and activities.
Also known as the Division Street Boutique, the company's new space provides a larger layout with greater accessibility to accommodate wheelchairs, strollers and wagons. The brand was previously located upstairs on the building's second floor.
"The decision behind this move was an easy one. When FIRM Real Estate became our new landlord, we were given an opportunity to move into a ground level space, which was what we had been trying to accomplish in Eastern Market for the past five years," said Brendan Blumentritt, co-owner of Detroit Hustles Harder. "We jumped at the opportunity and we were able to move into a fully renovated space. Firm did what was in our best interest and provided numerous offerings previous landlords did not. Our brand has a lot to offer Detroit, and the city in turn has a great deal to offer us. We are excited to showcase that through this move."
For more, read:
Source: Detroit Hustles Harder Sets Up Shop In Eastern Market – CBS Detroit