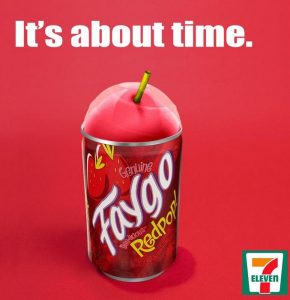 Faygo Beverages and 7-Eleven, Inc. announce an exclusive partnership to release the long-demanded combination of their flagship products – the Faygo Redpop Slurpee drink. Beginning this month, Redpop Slurpee beverages are available at more than 300 7-Eleven locations across Michigan and Ohio.
"Redpop has been the most popular flavor in Faygo's history, so how do you improve on that?" asked Al Chittaro, executive vice president of Faygo Beverages, Inc. "We've been getting requests from Faygo fans for years to mix up their favorite flavors in an ice-cold Slurpee, and now, together with 7-Eleven, we can bring out the best of the best."
"7-Eleven has had a strong presence in Michigan for over four decades," Chittaro added. "Faygo is now celebrating its 108th anniversary, so this collaboration has been a long time coming."
Based in Dallas, 7-Eleven introduced the Slurpee drink in 1966 and estimates that more than 13 million Slurpees currently are sold every month in the U.S. However, according to 7-Eleven, its stores in the greater Detroit area sell more Slurpee beverages than any other 7-Eleven market in the U.S., making this region an ideal location to bring together its best-loved frozen treat and one of the Midwest's most iconic soda brands.
"We want to bring our customers the local products they love and grew up with," said Nancy Smith, 7-Eleven senior vice president of fresh foods and proprietary beverages. "Redpop is a long-standing hometown favorite because it's what they love and crave.
"We have found that our customers love having their childhood-favorite sodas available as a Slurpee drink, which also is loved by kids and adults," said Smith. "Red is a favorite color on the Slurpee machine, and three of the four regional Slurpee flavors we have introduced in the past year have this in common.
"And from now through May 5, all small-size Slurpee drinks are just 99 cents at participating stores.," she added.
Redpop was among the original soda flavors concocted over 100 years ago by Detroit-based Faygo Beverages, then known as Feigenson Brothers Bottling Works. Trained as bakers, Ben and Perry Feigenson applied their skill with frosting flavors to sweeten bottled soda water. They delivered their freshly made sodas to local residents from a horse-drawn carriage on the streets of Detroit. The brothers are often credited with coining the term "pop" as a synonym for "soda," based on the sound their bottles made when opened.
Since those early days, Faygo Beverages has grown into an international brand, though still held dear by many in Michigan and Ohio as a regional touchstone. Faygo also has earned plaudits from national outlets such as Bon Appétit Magazine and the web-based Serious Eats, among others.
"Faygo fans are rarely shy about offering their opinions, especially when it comes to their favorite flavors," said Chittaro. "We look forward to wading through the outpouring of friendly suggestions as we, along with 7-Eleven, consider additional Faygo Slurpee flavors."
Faygo fans are invited to make the case for their favorite flavor, and to post their Redpop Slurpee selfies on Twitter using #FaygoSlurpee, or at Faygo's Facebook (www.facebook.com/faygo) and Instagram (https://instagram.com/faygo) pages.
About Faygo
Faygo Beverages began as the Feigenson Brothers Bottling Works in Detroit on Nov . 4, 1907. In the 1920s, the company shortened its name to "Faygo" because the original name was too long to print on bottles. The company expanded its business to a large facility on Gratiot Avenue in Detroit in 1937, which serves as its bottling plant and headquarters to this day. For over a century, Faygo has developed a variety of soft drink beverages and a wide range of flavors, including Detroit favorites Redpop and Rock & Rye. The company has been part of the National Beverage family since 1987. For more information visit: www.facebook.com/faygo or www.faygo.com.