This isn't your everyday job: designing airplanes beautified with diamonds and gold for the Sultan of Brunei. Earl Lucas had that job and decided to bring his skills to Ford Motor Company, where he is now the lead automotive designer.  Among his accomplishments at Ford, he created the exterior of the celebrated 2010 Ford Taurus, awarded Car of the Year by Esquire Magazine. More recently, he designed exteriors of the 2013 Ford Taurus and 2013 Lincoln MK S, and is currently working in the Lincoln Design Studio on another project.
With each project, Earl continually infuses art and innovative styling into his designs. As Ford's highest-ranking African American automotive exterior designer, and one of only 30 African American car designers in the world, he is a pioneer in the automotive design industry.
After the acclaim he received for revving up the exterior of the Ford Taurus, Earl Lucas didn't sit back and bask in the glory of industry stardom. Instead, he accepted a three-year assignment in Europe—one that completely changed his approach to design.
"I spent three years designing new/advanced products for the European market," said Lucas. "While I lived and worked just outside of London and at our sister studio in Germany, I also had the opportunity to travel the continent. This experience broadened my perspective on design considerably. It heightened my taste level by giving me a greater sensitivity for aesthetics and smaller shapes as well as new insight into potential implications of green technology.
"Coming from an American design background, I was used to working on larger products. Those I worked on in Europe were much smaller—mostly in the B-size range, smaller than A-size cars, and even some C-size products."
Although Lucas has only been back in the States for a few months, he is already knee-deep into projects for Ford's Lincoln brand with the lessons he learned in Europe fresh in his mind. He can't reveal specifically what he's been working on, but considering the response he received from his contributions to vehicles like the 2002 Navigator, 2003 F-150, Ford Flex crossover and 2010 Taurus, it will be "brilliant" (a word he heard often in England).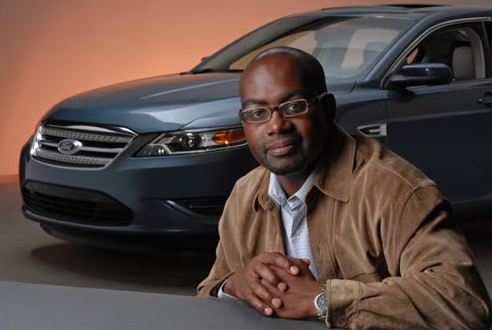 __________________________
From College for Creative Studies
Lucas, originally from Dallas, came to the College for Creative Studies (CCS) from Booker T. Washington High School for the Performing and Visual Arts where musicians Norah Jones, Erykah Badu and Roy Hargrove also attended. He met a representative of the College at one of the school's career days.
"I originally came to CCS to major in jewelry," explained Lucas. "Two years into my crafts program, I switched to industrial design. It actually seemed like a natural transition. In high school, I enjoyed sketching and tinkering with cars as well as collecting Hot Wheels and car paraphernalia."
While he was at CCS, Lucas designed a van to transport elderly riders which led to an interior design job with auto supplier Lear Corp. Then he moved back to Texas to accept a position with a small firm designing aircraft interiors for planes owned by the Sultan of Brunei. In 1999, he was hired at Ford.
"Whether I'm designing cars for the average person or planes for the world's richest man, it's those lessons I learned at CCS that helped me become the designer I am today," said Lucas. "I was used to working in an atmosphere where pressure and competition were the norm. Because I was not treated as a star student, I yearned for better design solutions and attention. This forced me to work harder."
Although Lucas is proud of the attention his career has received from both his colleagues as well as popular press, it's not rave reviews that drive his passion.
"Seeing a car I designed on the road makes all of the hard work worth it," he said. "It sounds cliché. But for an artist, there's really no feeling like it."
Source Link – Center for Creative Studies