Radio + broadcast marathon = Fourth Annual S.A.Y. Detroit RADIOTHON
December 10, 2015 | 6 a.m. – 9 p.m.
All-day radio for better days in Detroit
Make your pledge: 1-855-955-4483 | Bid on auctions here.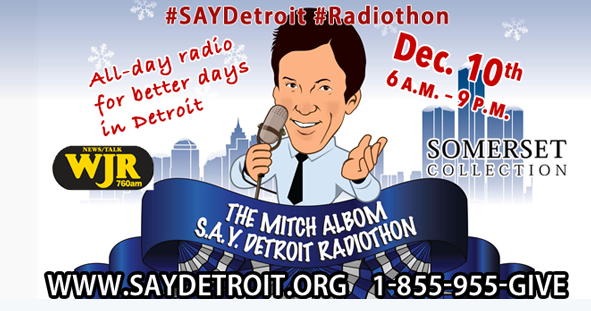 Now an annual tradition, the first-ever S.A.Y. Detroit  Radiothon was broadcast live from the Somerset Collection in Troy, MI on November 27, 2012. With help from live and call-in guests like Hugh Jackman, Lyle Lovett, Hank Azaria, Tony Bennett, Lloyd Carr, Catherine O'Hara, Kevin Smith, Dr. Phil and local media stars, the 15-hour live broadcast raised over $400,000 to help Detroit's neediest citizens.
Since that first broadcast, the annual radiothons have raised an additional $1.2 million to help the poor, the homeless, families without homes, children without medical care, students hoping to reach the college of their dreams and veterans who have hit hard times.  All funds raised benefit S.A.Y. (Super All Year) Detroit, an umbrella 501 (c)(3) nonprofit organization that funds programs like the S.A.Y. Detroit Family Health Clinic, the S.A.Y. Play Center, Working Homes/Working Families, the Dream Scholars, A Time to Help, and several other local charitable efforts who care for Detroit's neediest and work towards a revitalized Detroit.
The day's entertainment brings together all parties—the people who benefit from these charities, famous folks who wish to call attention to them, and most importantly, people like you who wish to help. Watch and listen all day:
on WJR 760 AM
live video stream at saydetroit.org, wjr.com, freep.com, and clickondetroit.com
live in-person at the Northside Grand Court of the Somerset Collection
Tune in and you'll hear from Hugh Jackman, Paul Stanley, Billy Bob Thornton, Jane Pauley, JK Simmons, Craig Ferguson, Alice Cooper, Dr. Phil, Tim Allen, Howard Schultz, Dave Barry, John Pizzarelli, Mayor Mike Duggan, Bruce Cornblatt, Kevin Eubanks, Charles Woodson, Kirk Cousins, Matt Stafford, Stan Van Gundy, Brad Ausmus, Dan Gilbert, Bernie Smilovitz and more!
For the first time ever, we've opened up our auctions online. You can place bids, keep an eye on auction items, and receive alerts if you've been outbid on must-have items.
Donating is easy: Call 1-855-955-4483 to make your pledge, browse and bid on auction items here, or submit your donation online. You can even "buy" thank you premium items.