the new film by Producer/Director Tony D'Annunzio, which is slated to screen at the Cinetopia International Film Festival on June 1, 2012 at 9:30 p.m. at the Michigan Theatre 603 E. Liberty Street Ann Arbor, MI 48104.
http://www.michtheater.org/cinetopia/
Check out the video movie trailer below about Rock Music History in Detroit at the same time Motown Music was still emerging.  Also, there is a little history about the Detroit Riot and the Grande Ballroom, I am passing on.
Note:  The Grande Ballroom is part of my own personal teenage history – we saw many artists there – The Cream – Jimi Hendrix – Mc5 – Ted Nugent and The Amboy Dukes – Led Zeppelin – the Beatles (oh no, that was down the street at the Olympia Stadium) and others.   One night I heard and had some sit down time back stage with Tim Buckley, an astounding artist who sadly died on June 29, 1975 from a  heroin/morphine drug overdose.  I escaped the drug scene all together except that one time I didn't inhale (like a former president) really … it's true … one time … one puff … didn't inhale.   My family lived in Somerset Park in Troy and we had access to their Community House, I hired the Mc5 one evening and Ted Nugent with The Amboy Dukes on another and we packed the house both times.   That was the extent of my life as a concert promoter till years later where we didn't pack the house.  – Richard Dalton
__________
In the turbulent summer of July, 1967, folksinger and Elektra recording artist Tim Buckley was booked to play Detroit's Grande Ballroom, run by "Uncle" Russ Gibb. Back in the day, it was not uncommon for musicians to accept Gibb's invitation to stay at his place while in town. So it was that Buckley and his Afro-American drummer, Carter Collins, found themselves at a Sunday picnic organized by their host and held at Kensington Metropolitan Park (to the northwest of Detroit along I-96).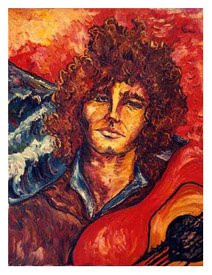 Tim Buckley by Jennifer Stace
Returning from their day outing, the
three surprisingly found the streets blocked when they got to the intersection of Greenfield Road and Grand River Avenue. It was then that the police informed them that parts of the city were in flames, that it was unsafe to proceed past the boundary at Eight Mile Road that had been established by the National Guard.
"Holy crap," Buckley and Collins exclaimed, "We need to fetch our gear from the Grande!" All three knew that the venue was located near ground-zero and could possibly be torched. Collins had stashed his drum kit there, while Buckley had left a few priceless guitars.
Russ being the local, he circuitously navigated his Thunderbird first through the white neighborhoods, then on into those which were primarily black. At this point Collins took the wheel, with Buckley and Gibb crouched down very low between the front and rear seats.
Now approaching the Grande, Collins flagged down a young black kid and—the ballroom being unscathed amongst the flames everywhere else—pointed to the Grande. "Hey, man…what's going down? How come that place still standin'?" The young boy replied, "Oh, dey got MU-sic dere."
…
So it was that the Grande Ballroom—having hosted such acts as Muddy Waters, Albert King, (Detroit's own) John Lee Hooker, Howlin' Wolf, B.B. King, Buddy Guy, the James Cotton Blues Band, and the Chambers Brothers—escaped the infamous '67 riots. It was a regular protocol—long established by Gibb—to let the local black kids in for free. He had figured that if they were inside enjoying themselves, they weren't outside breaking into patrons' cars and/or accosting concert-goers outside the venue.                –   
Source Link Floydian Slips
___________________
LOUDER THAN LOVE debuted to standing ovations at the World premiere April 5, 2012 at the Detroit Film Theatre at the Detroit Institute of Arts, followed by accolades at Chicago International Movies & Music Festival, Nashville Film Festival and a sold out show at Cleveland's Rock and Roll Hall of Fame + Museum.
ABOUT THE FILM
While the West Coast was grooving to the sounds of the "Summer of Love" in 1967, Detroit was pumping out a hard-driving, gritty, raw sound. At the epicenter of this seminal music scene stood the Grande Ballroom, Detroit's original rock and roll palace. LOUDER THAN LOVE: The Grande Ballroom Story, a new film by producer/director Tony D'Annunzio, relates the story of the hallowed halls that started it all, as told by the artists and fans who helped fuel the Grande phenomenon.
In the late 1960s, the Grande helped to break some of America's most iconic rock bands including MC5, Iggy and the Stooges and Ted Nugent and the Amboy Dukes, who influenced local musicians and inspired bands all over the U.S. and Great Britain. Legendary acts such as Led Zeppelin, Cream, B.B. King, Janis Joplin, Pink Floyd and the Who played the Grande main stage on a regular basis.
Director D'Annunzio amassed more than 60 hours of interviews with artists and other insiders from the Grande's heyday, including B.B. King, Alice Cooper, Roger Daltrey, Scott Morgan, Mark Farner, Tom Morello, Wayne Kramer, Lemmy Kilmister, Ted Nugent, Henry Rollins, Don Was, Slash, Dick Wagner and James Williamson. He also collected more than 500 never-before-seen archival photos of performers such as the Who, Howlin' Wolf, Albert King, Cream, Pink Floyd, Jeff Beck Group, MC5, Traffic  and Iron Butterfly.
The movie soundtrack presents 20 original recordings from some of Detroit's greatest rock and roll bands, including MC5, Iggy Pop and the Stooges, Amboy Dukes, the Up, Frost, the Rationals, Savage Grace, Jagged Edge, Wilson Mower Pursuit, Detroit and Frigid Pink and a brand new song written and performed by Dick Wagner appropriately titled "Motor City Music."
LOUDER THAN LOVE Official Website
http://thegrandeballroomstory.com/