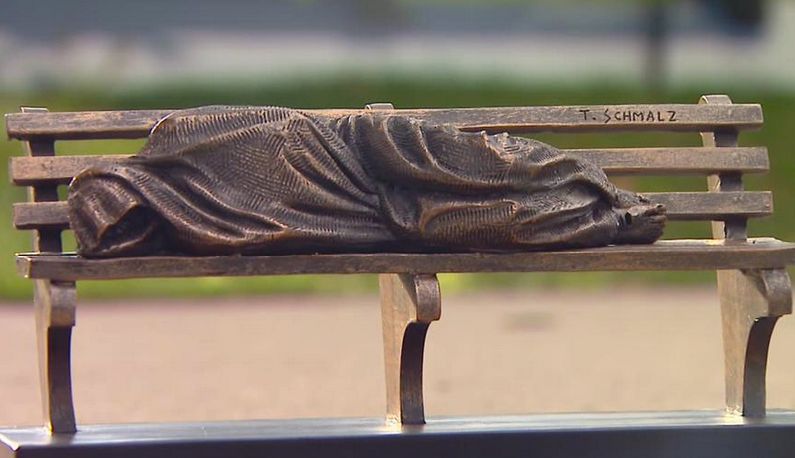 A statue depicting a "homeless Jesus" asleep on a park bench has finally found a home.
The sculpture was placed Friday at the front doorsteps of the St. Peter and Paul Jesuit Catholic Church in downtown Detroit, the city's oldest church building, according to the Detroit Free Press. It was dedicated after Mass on Sunday.
Created by Ontario-born artist Timothy Schmalz, the bronze sculpture features a man asleep on a park bench. A blanket covers most of the man's body, save for the bare feet which bear the marks of crucifixion. Schmalz has had models of the statue featured across the United States, and one was even presented to Pope Francis at the Vatican.
"We hope it's a great event for the city. It's a gift for our city and our church," said the Rev. Gary Wright, the parish's pastoral administrator.  "We hope it elevates the good work that we're doing here. We hope it elevates people's awareness of those in need."
Some have criticized the statue, saying it demeans Jesus. Schmalz, however, told Christianweek.org last year, "It's like a 24/7 preacher, preaching a message that is very important in the world right now."
According to the Detroit Free Press, an anonymous donor paid Schmalz's $32,000 fee to bring the statue to Detroit.