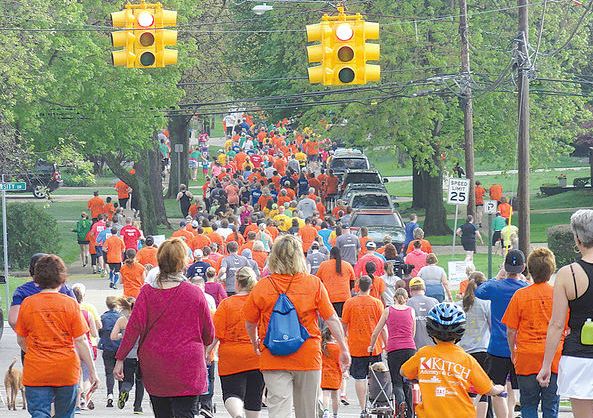 Hundreds of families participate in the Hometown Hustle in support of the Rochester Community Schools Foundation each year. (Photo provided by Rochester Community Schools)
ROCHESTER — The Hometown Hustle will return to Rochester this May, giving the community a chance to lace up their running shoes to support Rochester Community Schools.
RCS Community Relations Director Lori Grein, who also manages the Rochester Community Schools Foundation, said the event is the foundation's premier fundraiser for the year.
"The Hometown Hustle supports the Rochester Community Schools Foundation, which supports our district — primarily through student scholarships and teacher grants. Grants are offered twice a year and help supplement instructional programs and services, which support the areas of academics, arts and athletics," she explained.
Grein said last year's event attracted more than 1,100 participants and raised more than $25,000 for the foundation.
"Folks come out there in huge masses to enjoy family time, fitness and the Rochester community while giving back to the schools, so it's just a win-win for both of us," Grein said. "Last year, one gentleman was 5 years old and partook in the race. It's fun to see the different levels, and it's really amazing to see our youngest members valuing fitness at their age as well. We also had a nice turnout last year from our high school runners. If you have never been, it's a great event."
This year's event — which will be held the morning of Saturday, May 7 — remains a timed 5K race and fun run/walk for all calibers of runners and walkers.
"It brings community members of all ages together to enjoy the picturesque race route that runs through the historic neighborhoods of downtown Rochester, the Rochester Municipal Park, and the Paint Creek and Clinton River trails," RCF Foundation Chairman and volunteer Bob Justin said in a statement.
Those interested in participating are encouraged to do so before the day of the event, although participants can still register the day of the event for a higher fee. Adult registration costs $22.50, or $28 the day of the event, and K-12 student registration costs $12.50, or $18 the day of the race. To register, visit runsignup.com/Race/MI/Rochester/hometownhustle.
All proceeds will go toward the Rochester Community Schools Foundation — which supports academics, arts and athletics through student scholarships, mini-grants to educators, and cultural and athletic programs.
Although many of the event's 2015 premier sponsors have already recommitted, Grein said the district is always looking to grow and expand opportunities for new supporters.
To donate or learn more, call (248) 726-3190 or visit www.rochester.k12.mi.us.

ABOUT THE AUTHOR
Staff Writer Mary Beth Almond covers the city of Rochester, Rochester Community Schools and Avondale Schools for the Post. Almond has worked for C & G Newspapers since 2005 and attended Michigan State University.
Source: http://www.candgnews.com/news/hometown-hustle-supports-rochester-community-schools-91577