Progress in Detroit is a bumper-to-bumper jumble of cars and buses inching through downtown.
Ten months after emerging from a record $18 billion municipal bankruptcy, Detroit is functioning in ways unseen for months and even years — street lights are on, parks get mowed, municipal debt is sold on the public market and the police are training civilians to manage traffic at clogged intersections.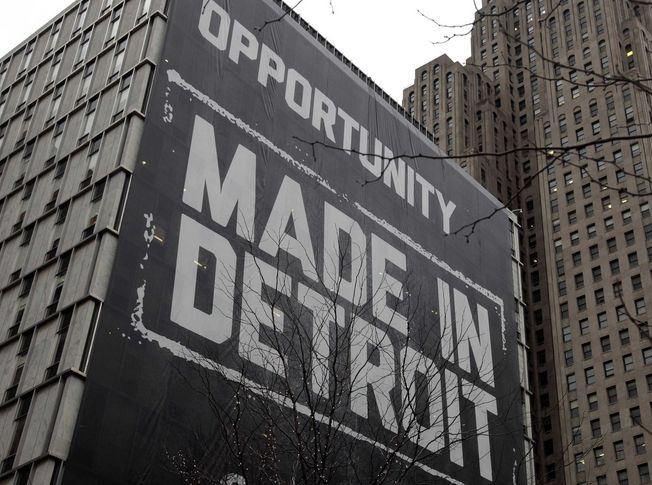 "It's a madhouse," said Joshua Elling, a community development executive whose usual 20-minute commute can sometimes take an hour.
 This is the contrast of the remade Detroit. A vibrant downtown attracts young people, and a new streetcar line and arena complex rejuvenate a city accustomed to resignation. Yet the vast expanse of residential streets, where four of 10 live in poverty, map the long-term challenge. Surrounding neighborhoods represent 95 percent of Detroit's land mass, roughly the size of Boston and Baltimore combined, and await revival amid 70,000 vacant buildings.
"Everybody likes a good comeback story, a good underdog story, and that's what Detroit is," said Luther Keith, executive director of Arise Detroit, a coalition of neighborhood groups headquartered on the sprawling east side. "Where it goes, I don't know."
The Census Bureau deems the city the nation's poorest. After losing more than half of its population and 90 percent of its manufacturing jobs since 1950, Detroit became the nation's first major city to file for bankruptcy protection, in July 2013. There is no template for a recovery of this magnitude. Despite indicators of increased housing sales, the city continues to lose population, dropping to 680,000 last year. The child poverty rate is 59 percent. For most of the city's 139 square miles (360 square kilometers) little has changed.
Feeding Zone
Downtown Detroit, however, thrives. Quicken Loans Inc. and Blue Cross Blue Shield of Michigan are responsible for more than 15,000 jobs there. In downtown and midtown, 77 restaurants have opened since 2013, a 26 percent increase, according to 7.2 SQ MI, a data project that tracks economic changes in the city. Over the same period, the number of retail establishments grew 13 percent, to 352.