We Humble Ourselves — Turning a Nation Back to God  is a patriotic concert featuring a symphony orchestra, a choral group, a drum and fife corps, and re-enactments of historical figures.
The characters include:
 Our First Fathers (the Pilgrims),
 Our Founding Fathers (George Washington, Thomas Jefferson and others), and;
 Our Uniting Fathers (Abraham Lincoln and Frederick Douglass).
The event has the unique distinction of allowing the audience to participate in the concert by joining in the songs—and even a couple prayers—for those who want to say them.
The stage will be adjacent to an area of the park that will house tents and encampments of the historical reenactors so that visitors can experience what it must have been like for our ancestors. And the audience will be encouraged to dress in Colonial or Civil War clothing for the Event.
Everything is arranged to allow a family to attend at no cost (there's no admission fee) or minimal cost (if they want to buy hot dogs and apple pie). And whether or not visitors choose to buy souvenirs, everyone will come away with memories that will last a lifetime. The concert is a stirring, heart-affirming presentation with a beautiful symphony and choral group, joyful hymns, patriotic sing-a-long songs and even a few delightful surprises.
For the healing of our Nation and our Nation's citizens
Really?
Yes, really. There is no hidden agenda, no politics, no secret funders, no famous speakers. The event is a grassroots effort, not sponsored by a specific Christian Church, but having the support of several.
Our goal is to bring joy, hope, and encouragement to a weary people and a struggling nation. Ultimately, we rely on the promise of God as relayed in 2 Chronicles 7:14: If my people who are called by my name will humble themselves, and pray and seek my face and turn from their wicked ways, then I will hear from Heaven and I will forgive their sin and will heal their land.
Let us rebuild our beloved City, State and Nation.
By God's grace, we can begin the healing and renewing of our land. It starts in Dearborn, Michigan, on August 30, 2015 at 3 pm. Come and change the course of U.S. history!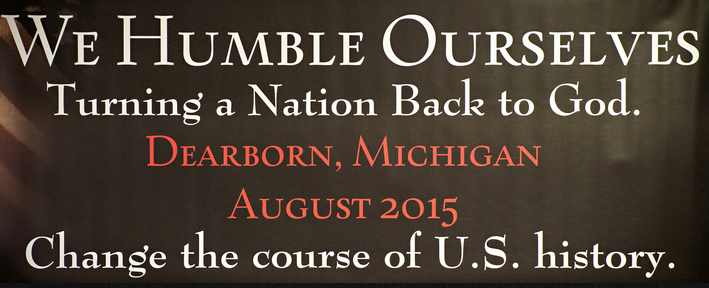 __________________________________________________
We are your friends and neighbors, folks just like you who have watched our beloved United States slip into confusion and darkness. We realized that the only way to fix the Nation was to ask the Lord for healing — first for ourselves and then for our Nation.
The planners and volunteers of We Humble Ourselves are committed to God, Family and Country. And we decided we wanted to help others find the healing that we found in God. So we wrote a concert performance to bring together our friends and neighbors and we added history and acting and song to make it as educational as it is delightful. We Humble Ourselves, Inc. is a charitable non-profit organization, tax-exempt pursuant to Section 501(c)(3) of the Internal Revenue Code. It was created to organize and host this event and then to share the program with others who may wish to bring it to their city.
We Humble Ourselves is leading a hurting Nation back to healing through a two-hour concert performance at a 37 acre park in Dearborn, Michigan, on August 30, 2015. Our interactive-musical-stage-performance event, which can be duplicated in locations across the Country, is generating a patriotic enthusiasm for the founding of these United States. It is reviving the courage and joy of our fellow citizens by recalling our Nation's history of Truth and Liberty.
We Humble Ourselves is a profoundly patriotic event, an interactive concert featuring symphony musicians and selections that encourage the audience to sing along with the 100 member choral group. It salutes the veterans, recalls our Nation's history and highlights the uniqueness of our founding. It has the voices of children, the love of family and the excitement that comes with authentic hope. The program was written and produced by a Dearborn resident and was meant to bring encouragement to the citizens of our city and our beloved Nation. It is a grateful and unified plea to the Lord and it carries with it the hope of a hurting Nation.
In the Bible, the Lord promised:
"If my people, who are called by my name, will humble themselves and pray and seek my face and turn from their wicked ways, then I will hear from heaven, and I will forgive their sin and will heal their land." (2 Chronicles 7:14, NIV)
It's the map we need. Come and join us on this magnificent journey!