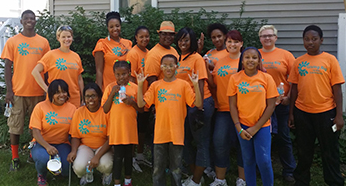 Community leaders partner with Humble Design to furnish homes for Grace Centers of Hope
Every year fifty of the most influential community and business leaders within Oakland County team up for a day of service. On Saturday, May 16, they will transform five houses into homes in the city of Pontiac.
Leadership Oakland has partnered with the nonprofit organization Humble Design to bring this project to fruition. Humble Design uses donated home furnishings to decorate the homes of families emerging from local homeless and abuse shelters. The five transformations associated with this project will bring the total number of families whose lives have been changed by Humble Design to an astounding 500!
The five homes belong to Grace Centers of Hope, and are a part of an affordable housing community called Little Grace Village. What was once a blighted neighborhood in downtown Pontiac, destroyed by drugs and prostitution, is now a growing community that helps transition once homeless individuals back into society, allowing them to stay in a nurturing and accountable community.
The fifty volunteers have a mighty task ahead of them. In addition to furnishing the five homes, with home decor from Humble Design, they will fully clean each home. The group will also add some 'curb appeal' with flowers and shrubs courtesy of Bordine's Nursery.
Following a day of hard work, a small celebration will take place in Grace Park, which is on the same street as the homes. Applebee's will provide food and drinks for the families and volunteers alike. "This will be a great way for the volunteers to interact with the families, who are turning the page on a new beginning," says Humble Design Director Julie Nagle.
Humble Design is a 501(c)3 organization dedicated to helping homeless families in need. Humble Design turns four bare walls into a clean, dignified and welcoming home by repurposing gently used household goods. Humble Design partners with local area homeless and abuse shelters to identify families who are emerging out of shelters. Many of theses families are victims of abuse and have left behind all personal items upon escaping and entering an emergency shelter. When these families move into their new residence, Humble Design comes in and makes their house a home! Giving them back their dignity and hope for the future!
 Grace Centers of Hope — Giving hope to the helpless since 1942, Grace Centers of Hope is Oakland County's oldest and largest service provider for the homeless. Today, Grace Centers of Hope is considered one of the leading faith-based organizations in Southeastern Michigan, daily confronting issues of homelessness, addiction, poverty, abuse and spiritual emptiness. On any given night, Grace Centers of Hope provides transitional and emergency shelter to 150-200 men, women and children, in addition to serving over 150,000 meals each year. Grace's $5.7 million yearly budget is maintained solely through corporate and private donors, exclusive of any government assistance. To learn more about Grace Centers of Hope or to make a donation, please visit www.gracecentersofhope.org.