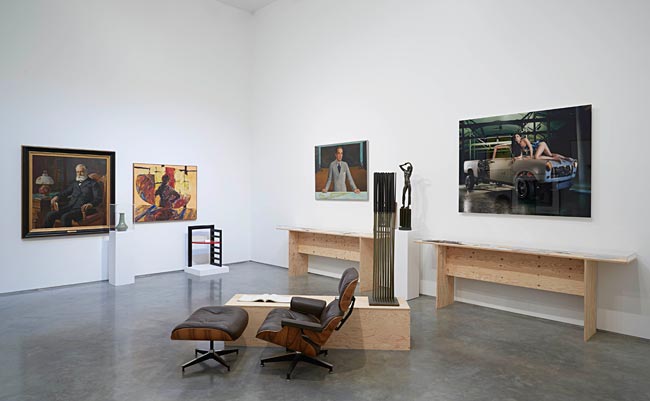 Another Look at Detroit: Parts 1 and 2, curated by Todd Levin and in collaboration with Marlborough Chelsea
June 26 – August 8, 2014
509 West 24th Street
ANOTHER LOOK at DETROIT: PARTS 1 and 2
Curated by Todd Levin
June 26 – August 8, 2014 | Opening: Thursday, June 26, 6-  8pm
A joint project between Marianne Boesky Gallery and Marlborough Chelsea, Another Look at Detroit presents works and objects by over fifty artists, designers, and cultural contributors. The focus of this exhibition is the city of Detroit as a creative center, historically through to today. Spanning a period of 150 years, and taking place at both galleries' Chelsea spaces, this exhibition is by no means a comprehensive survey. Rather, Another Look at Detroit intendsto portray a vision as sprawling and complex as the biography of the city itself.
Mary Ann Aitken / Keith Aoki / William James Bennett / Harry Bertoia / McArthur Binion / James Lee Byars / Nick Cave / James Chatelain / Liz Cohen / Destroy All Monsters / Robert Duncanson/Charles and Ray Eames/ John Egner/ The Henry Ford/ Cyprien Gaillard / Michael Glancy / Brenda Goodman / Jay Heikes / Marie T. Hermann / Scott Hocking / Percy Ives / Ray Johnson / Mike Kelley / Arthur Nevill Kirk / Hughie Lee-Smith / Kate Levant / Morton Levin / Arnold Livshenko / Al Loving / Michael C. Luchs / P. Scott Makela / Tony Matelli / Katherine McCoy / Michael McCoy / Allie McGhee / Charles McGee / Julie Mehretu/ Julius Garibaldi Melchers / Metroplex / Ann Mikolowski / Carl Milles / Wallace MacMahon Mitchell / Gordon Newton / Michele Oka Doner / Max Ortiz / Ellen Phelan / Pewabic Pottery / Bill Rauhauser / Scott Reeder / Jennifer Wynne Reeves / Richard Ritter / Diego Rivera / Eero Saarinen / Eliel Saarinen / Loja Saarinen / Dana Schutz / Zoltan Sepheshy / Robert Sestok / Jim Shaw / Shinola / Michael E. Smith / Mortimer Smith / Gilda Snowden / John Mix Stanley / Anna Sui / Graem Whyte / Robert Wilson
For more information regarding works in the exhibition, please contact Aniko Berman at aniko@marianneboeskygallery.com or Amanda Schmitt at schmitt@marlboroughchelsea.com.