This Sunday – November 1st at 4 p.m.
Join Us in Remembering Our Heritage
and the Real Purpose of Thanksgiving Day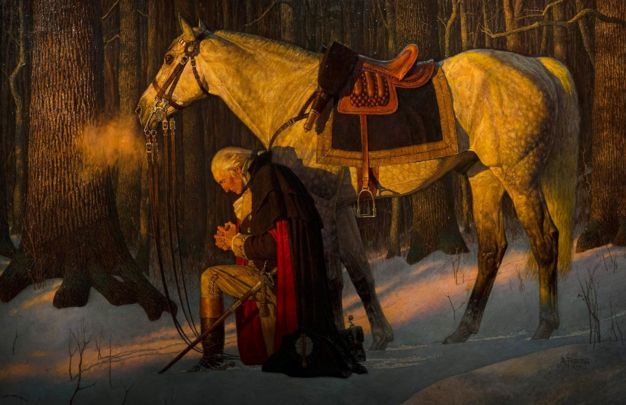 George Washington arrived in Metro Detroit Sunday night, Oct. 25th, from Philadelphia, to promote his Thanksgiving Proclamation – (well, kind of).
A local minister joined by both Presidents "George Washington" and "Abraham Lincoln" would like Metro Detroiters to recall the National Proclamations of both presidents regarding Thanksgiving Day.
Rev. Richard Dalton, an Anglican Minister and Hospice Chaplain who lives in downtown Rochester, can also be found in the national records.  He was invited to the U.S. Senate to deliver the opening prayer in 2003 as a guest chaplain.  His prayer that day began with a thanksgiving theme:  "Mighty God, We thank You for the gifts You have bestowed on our Nation: the gift of freedom, the gift of plenty, the gift of community, and the countless gifts of beauty You have given this land."
Dalton says, "In the last couple weeks I've thought about how I might help Metro Detroiters understand a bit better the "Reason for the Season," I mean, "Day," of Thanksgiving, so I called my brother from Philadelphia and asked him to bring a lovely oil painting of our First President back to Detroit. We have somewhat of a "strange inheritance" from our parents, original Presidential oil portraits, that we have in storage."
So, Dalton is taking the "show on the road," passing out both Washington and Lincoln's Presidential Thanksgiving Proclamations, and displaying the oil portraits of both of these famous Presidents, as well as two original historical presidential documents with Washington's and Lincoln's signatures.  He thinks it's doubtful that either proclamation could be read in many public schools today given the religious content.  Last Sunday, he set up the Lincoln display at a local church and was happy to see the reaction of both adults and children making a needed connection with this part of our national history.
(Oil Portraits, Documents will be displayed and Proclamations will be passed out this Sunday)
Click Here for Directions and Details
Print Washington and Lincoln Thanksgiving Proclamations on Legal Size Paper