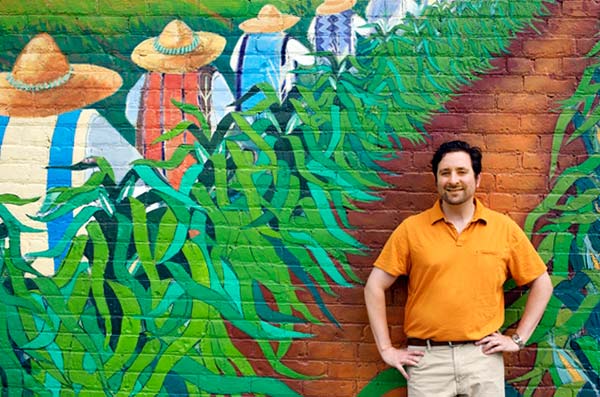 by Tom Stankard
Remember when Detroit was a prosperous city, guided by the innovative, industrious and entrepreneurial spirit that influenced the auto pioneers of a century ago?
Today, Detroit is in economic turmoil. As of 2010, according to Detroitchamber.com, Detroit's unemployment rate stands at a low 12.6%. In 2000, Detroit's population was 951,270. Ten years later, Detroit's population was 713,777, a 25% drop sense 2000. But there's still hope for Detroit.
"Global Detroit is an effort to revitalize Southeast Michigan's economy by pursuing strategies that strengthen Detroit's connections to the world, and that make the region more attractive and welcoming to immigrants, internationals, and foreign trade and investment," http://globaldetroit.net/. The program is originally funded by the New Economy Initiative, the Detroit Regional Chamber of Commerce and the Skillman Foundation
Back in May 2010, former State Representative and House Majority Floor Leader Steve Tobocman, on behalf of Global Detroit, drew up with a study inside the Detroit Regional Chamber to find out the impact immigrants have on the regional economy.
The study is a result of months and months of researching academic and popular literature in order to understand the impacts immigrants have on regional economies. Global Detroit conducted interviews interviewing: local academics, business leaders, ethnic chamber leaders, hospitals, universities, economic development agencies, African-American leaders, foreign consulates and immigration service providers. Best practices visits were made in Cleveland, Minneapolis/St. Paul, Philadelphia and Pittsburgh, forming connections with immigrants and international talent attraction and retention initiatives in those communities.
Global Detroit's study indicated the state's foreign-born residents provide a major contribution to Detroit's economy. Immigrants living in South Eastern Michigan are 150% as likely to have a 4-year college degree than the nonimmigrant population. Detroit's immigrant community is also the third most productive of the nation's 25 metropolitan areas, producing 130% more of the regional economic output than their overall share of the regional population.
Global Detroit's research found immigrants play an important role in revitalizing Detroit's struggling auto manufacturing economy and ushering in the New Economy initiative. Immigrants rank higher in the science, technology, engineering and mathematics (STEM) departments that are important to technologies, innovations, and businesses powering the New Economy jobs and firms.
In fact, immigrants possess half of all new Ph.D.s in the following subjects: life science, physical sciences and computer sciences; and 40% of all new masters degrees in physical sciences, computer sciences and engineering. Here in Michigan, the foreign born account for 6.1% of the state's population but are awarded 44% of all masters degrees in engineering and 62% of all Ph.D.s in engineering as well.
In the year 2006, 25.6% of international patent applications filed in the United States listed a foreign resident, not including naturalized residents. Michigan placed eighth in the United States with 22% of international patent filings from 2006 listing an immigrant resident. Sense half of all immigrants in Michigan's are United States residents, the number is closer to 45%. The percentage means that immigrant Michigan residents are more than 7 times as likely to file an international patent than nonimmigrants.
Immigrants are the ones that started the critical business enterprises powering Detroit's New Economy initiative. The National Venture Capital Association approximate that 25% of all public, venture backed firms started in the United States between the years 1990-2005 were started by immigrants. These statistics are the most commercially successful of all New Economy Firms. In the mitten, a whopping 32.8% of all high-tech startups at the time were founded by an immigrant, making Michigan third in the United States and makes Michigan immigrants more than six times as likely to open a high tech firm than nonimmigrant residents.
"Immigrants in the United States and Michigan make up small portions of the work force than their share of the population," http://globaldetroit.net. This is mainly because immigrants are more than likely to be of working age. In Michigan, for example, 64% of immigrants are working class folks, compared to just 50% of the nonimmigrant population. This is a critical statistic in a rapidly aging state that's also quickly loosing working age residents thanks to out-migration. A good example of immigrant industriousness can be found in the Hispanic population who make up just 3.5% of the area's population, but on the other hand account for 6.5% of its total employment.
Metro Detroit has many advantages that give it its competitive edge. Metro Detroit is uniquely located among the Great Lake regions to help capitalize on the contributions from immigrants and global connections. Metro Detroit also has the third highest percentage of foreign-born residents in the Great Lakes with 8.3%, behind Chicago and Minneapolis/St. Paul. Michigan's 365,000 immigrant residents are the second largest immigrant population in the Great Lakes, right behind Chicago. Michigan colleges rank eighth in the country for size of our international student population with a total of 23,000 international students spending $6 million annually.
With these findings, the Global Detroit study sought out to develop 11 strategic priority initiatives that can take advantage of these great opportunities for Michigan!
One strategic priority initiative is the Welcoming Michigan campaign. The campaign began not long ago at the Michigan Immigrant Rights Center. The campaign represents the first ever program to receive funding. The idea for the campaign was inspired by the Welcoming America program that runs in 14 other states. Like Welcoming America, Welcoming Michigan wants helps Michigan's nonimmigrant communities adjust to the changes in American society in a global age. The program shows us how immigrants, foreign investments, and global connections can be a positive development for our region's economic success, including the economic success of all of our residents.
Several other initiatives are making progress as well. Local economic development agencies located the Southeastern Michigan and southwest Ontario met for close to a year now to form a partnership to recruit global businesses that can make it big in Detroit-Windsor's economic region.
Global Detroit is in the process of developing a cross-border partnership between regional economic development agencies to aggressively recruit new firms wanting to expand operations around the country, but are shackled by the United States immigration caps placed on skilled international workers. By simply developing appropriate marketing materials, attending global IT conferences and developing other strategies, Detroit-Windsor can one day become the leading "near shoring" base for the new economy.
Other such projects include: the developing of an international student retention program for all the talented students attending Michigan universities and colleges; supporting the region's EB-5 investor visa centers; developing a regional Cultural Ambassador program; building a Welcome Mat network of the region's nonprofit agencies severing immigrant and ethnic communities; connecting leadership in metro Detroit's emerging ethnic groups with regional leaders; creating a Mayor's Office of Global Affairs and a neighborhood revitalization strategies in Detroit; and developing the infrastructure that can sustain all of these afore mentioned regional efforts.
Global Detroit's study results and recommendations have been shipped out and presented to a number of local and national audiences, including: Automation Alley, TiE Detroit, the Detroit Consular Corps, Michigan Municipal League, Michigan Association of Planning, the National Immigration Integration Conference, Independent Sector Conference and the Michigan Conference on Affordable Housing. The New Economy Initiative is currently considering longer-term funding for several of Global Detroit's initiatives.
Last January, Michigan Governor Rick Snyder called Michigan in his first State of the State Address to be a "place that openly encourages innovators and entrepreneurs to come to our state." He said "The evidence is clear that advanced college degree immigrants can make a tremendous difference in creating a positive economic activity environment that benefits us all," Governor Snyder committed to establishing "an exciting new initiative to encourage immigrants with advanced college degrees to come to Michigan to live and work." In the past, Snyder has asked Michigan Department of Civil Rights and the Michigan Economic Develop Cooperation to work together to develop this initiative and Global Detroit has been part of the effort collaborating with them.
Each strategy recommendation is making progress by gathering together strategic partners, identifying targets and plans, developing budgets and finding funding and philanthropic supporting. Some have already received funding like creating a Welcoming America campaign in Michigan, and others haven't and are largely abstract if you will.
There's still hope for the city hundreds of thousands of people call home. Maybe one day Detroit will become a prosperous city again. Thanks to immigration, Detroit is moving on UP!
For more information, please log on to www.globaldetroit.net or contact Steve Tobocman at steve.tobocman@gmail.com or (313) 516-9681.