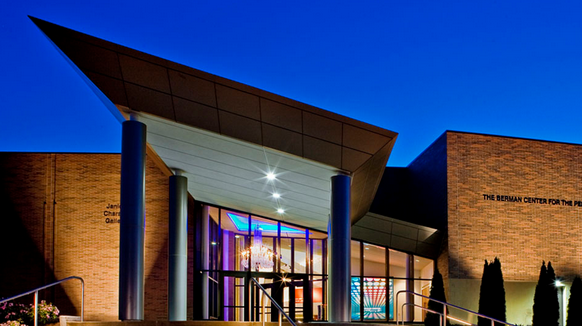 West Bloomfield, MI– More than 100,000 guests have attended events at The Berman Center for the Performing Arts. Inspired by an extraordinary gift from Madeleine and Mandell Berman, this beautiful, world-class, 600- seat theatre opened its doors in 2011 and has since welcomed performances by the late, Marvin Hamlish, David Broza, Patti LuPone, Noa, Mandy Patinkin, Bebe Neuwirth, Molly Ringwald, Patrick O'Connor Cronin, Midori and Barbara Cook.
The Berman Center for the Performing Arts announces its upcoming 2014-2015 season.
This's year's schedule offers a diverse collection of classical music, drama and comedy, outstanding children's programing, events on film and Broadway.
The season's LIVE events include:
CHITA RIVERA Featuring Sirius XM Radio Star SETH RUDETSKY as pianist and host
Produced by Mark Cortale
Sunday, November 2nd at 7:00pm Two Time Tony Award Winning Broadway Legend
What becomes a legend? Broadway's Chita Rivera deservedly earned her status with a limitless talent, an incredible endurance and longevity, long and gorgeous gams, lots of pizzazz, and that certain something that has made her a crowd favorite for five decades.  Ms. Rivera has earned 9 Tony Award nominations (with 2 wins), the Presidential Medal of Freedom (2009), and she is also the first Latino American to receive a Kenny Center Honors award (2002).  Hosted by Sirius XM Radio Star, Seth Rudetsky
PINKALICIOUS, THE MUSICAL! Performed by Vital Theatre Company
Sunday, March 8 at 1 pm & 3 pm
Pinkalicious will extol the virtues of the color pink. She even goes so far as to add extra pink to her mother's cupcakes, a move she regrets when, after eating too many cupcakes, she wakes up to find herself pink from head to toe.  Vital Theatre Company is dedicated to producing entertaining and educational theatre for young audiences.
THE MICHIGAN FIVE
Saturday, March 14 at 8 p.m.
For the 4th consecutive year, The Michigan Five brings Michigan's premier dancers from 5 universities and colleges choreographed by the industry's top choreographer, and organized by Oakland University's Greg Patterson.
FRIDA, THE OPERA with the Michigan Opera Theatre
Saturday, March 21 at 7:30 p.m. and Sunday, March 22 at 2:30 p.m.
Sung in English and Spanish with English translation projections.
Robert Xavier Rodriguez's FRIDA is a musical portrait of Frida Kahlo. At age 18 Kahlo was badly injured in a traffic accident, which necessitated many medical procedures. Her recovery in isolation, as well as a lifetime in physical pain, profoundly influenced her paintings — some of the most compelling of the 20th century. Kahlo's two marriages to famed Mexican muralist Diego Rivera (creator of Detroit Industry for the Detroit Institute of Arts) was another source of inspiration and heartache. The opera celebrates Kahlo's vivacious spirit, talent, sexuality, and fragility, with splashes of music as colorful as her artwork.
Tickets range in price and are available online at http://theberman.org/ and the box office 248-661-1900?. The Berman Center for the Performing Arts is located at 6600 West Bloomfield, MI 48322
Events, Dance and Children's classic all on Film this season:
MOULIN ROUGE®, ballet: Sunday, November 23 @ 2 p.m. & 7 p.m.
The Ballet has been seen by close to 60,000 people across North America and has elicited cheers and ovations wherever it tours. Along with a rousing French soundtrack, the ballet features high-kicking choreography and a passionate story of love, ambition and heartbreak.  Performed by Canada's Royal Winnepeg Ballet.
GREAT EXPECTATIONS, Wednesday, December 17 @10 a.m., 2 p.m. & 7 p.m.
Dickens' classic tale live from the West End on the big screen!  This Jo Clifford adaptation has been universally acclaimed as a triumph on its sellout tour of the UK ahead of its West End debut. The event will form part of the global celebrations surrounding the 200th Anniversary of the Dickens' birth.
OCEAN VOYAGERS, Sunday, January 4 @ 1 p.m. (with lunch) & 7 p.m.
The story of a precocious newborn humpback calf and his 40 ton mother takes us on a journey of discovery into the familiar themes of motherhood and parenting in a world that is as unfamiliar as it is breathtaking.
PRIVATE LIVES, Sunday, January 11 @ 2 p.m. & 7 p.m.
Noël Coward's PRIVATE LIVES. Elyot Chase (Toby Stephens) and Amanda Prynne (Anna Chancellor) are glamorous, rich, reckless and divorced. They find that their love for one another is unexpectedly rekindled when they take adjoining suites of a French hotel while honeymooning with their new spouses. This explosive production proves Noël Coward still has the power to thrill, provoke and delight. Originally a Chichester Festival Theatre production, PRIVATE LIVES was captured live in London at the Gielgud Theatre, a Delfont Mackintosh Theatre.
DISNEY'S FROZEN, WITH PRINCESS LUNCH Sunday, February 8 @ 1 p.m.
Elsa and Anna will great children for lunch before watching the film, Frozen: Fearless optimist Anna sets off on an epic journey-teaming up with rugged mountain man Kristoff and his loyal reindeer Sven-to find her sister Elsa, whose icy powers have trapped the kingdom of Arendelle in eternal winter. Encountering Everest-like conditions, mystical trolls and a hilarious snowman named Olaf, Anna and Kristoff battle the elements in a race to save the kingdom.
FLAMENCO HOY, Sunday, February 15 @ 2 p.m. & 7 p.m.
Flamenco Hoy, directed by the celebrated film maestro Carlos Saura, is a spectacular showcase of flamenco with breathtaking dance, dynamic music, and soul-searing singing. Featuring 20 of Spain's most exciting artists from the new generation of flamenco!
DISNEY'S BRAVE, WITH LUNCH, Sunday, March 29, 2105 @ 1 p.m.
A princess lunch will follow the showing of Disney's "Brave".  Determined to make her own path in life, Princess Merida defies a custom that brings chaos to her kingdom. Granted one wish, Merida must rely on her bravery and her archery skills to undo a beastly curse.  Winner of an Academy Award, a Golden Globe and the BAFTA Award for Best Animated Feature Film.
CAESAR & CLEOPATRA WITH CHRISTOPHER PLUMMER, Sunday, April 12 @ 2 p.m. & 7 p.m.
Stratford's production of Caesar & Cleopatra is a witty and seductive comedy about the relationship between a veteran Roman political strategist and an enchanting Egyptian teenage queen. Witness the acclaimed performance of legendary actor Christopher Plummer and Nikki M. James (2011 Tony Award Winner for Nabulungi in "The Book of Mormon"). All Sales Final. No Refunds/Exchanges.
Each and every month at The Berman Center for the Performing Arts will offer the audience the sounds of the most extraordinary music, theatre and programs for every taste. Additional performances will be added in 2015. Tickets range in price and are available online athttp://theberman.org/ and the box office 248-661-1900?. The Berman Center for the Performing Arts is located at 6600 West Bloomfield, MI 48322.