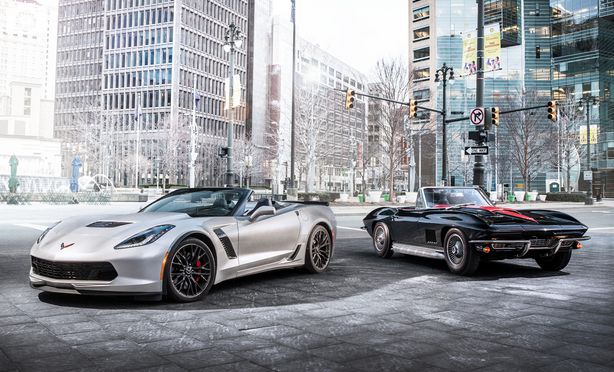 A cruise up and down Motown's Woodward Avenue in a 1967 Corvette 427 and a new Z06 convertible is a trip through the city's success and failure.
By DON SHERMAN Photography By CHARLIE MAGEE
A 1967 Corvette Sting Ray is our time machine for visiting the era when America and Car and Driver came of age. The 1960s marked the arrival of the Beach Boys, the Beatles, and the Stones—not to mention modern birth control, space travel, and draft-card burning—so it's no wonder this nation's psyche was irrevocably twisted. C/D contributed to the chaos by penetrating the DMZ separating import worshippers from domestic-car enthusiasts. After a Pontiac Tempest GTO "beat" a Ferrari 250GTO in our March 1964 "comparison test," the bar fights advanced to DEFCON 3.
Fifty years ago, GM was king. Accountants fudged prices to ensure that market share didn't top 50 percent, thereby avoiding trustbusters, while GM's designers and engineers created everything from $2000 Chevy Corvairs to $11,000 Cadillac Fleetwoods. The '60s began with the General's attempt to build a better Beetle in said Corvair, and the company gained momentum with turbochargers, aluminum-block V-8s, muscle cars, and a 7.7-liter front-drive Cadillac Eldorado untarnished by torque steer. Engineers and designers were free to dream from within GM's breathtaking, Eero Saarinen–designed Tech Center in Warren, Michigan. With no import ­worries or fear that Chrysler or Ford might catch up, GM played intramural scrimmage among its six divisions.