Free workout spots could help tackle the obesity epidemic, too.
Many urban parks become de facto fitness spaces. Joggers dart around kids teetering on bikes. It's not uncommon to see someone lunging across asphalt, breaking into squats or burpees, or enlisting a bench for standing push-ups. But some parks are specifically designed with fitness opportunities in mind.
Scattered throughout the Piety Hill neighborhood of Detroit—a corridor just off Woodward Avenue once lined with stately cathedrals—are small patches of land being turned into fitness spaces. With a new $110,000 grant from the Kresge Foundation, the Central Detroit Christian Community Development Corporation is working to transform vacant plots into free outdoor gyms. They're focusing on a 24-block residential area.
"The streets have gone through several iterations of devastation or blight, but are on their way back for a comeback," says Lisa Johanon, the executive director of Central Detroit Christian. To date, the organization has worked on seven lots—all less than 50 square feet, which makes them unsuited forresidential zoning.
"Having a gym membership is not something that's feasible for a lot of folks," Johanon says. She'd seen the outdoor exercise models elsewhere, and thought:Hey, this could work for us.
A survey conducted by the Michigan Department of Community Health found that more than 69 percent of adult residents in Detroit were either overweight or obese. Another survey noted that 23 percent of the city's high school students were obese. Obesity rates among low-income toddlers in Detroit diddecrease between 2008 and 2011, according to an analysis from the Centers for Disease Control and Prevention.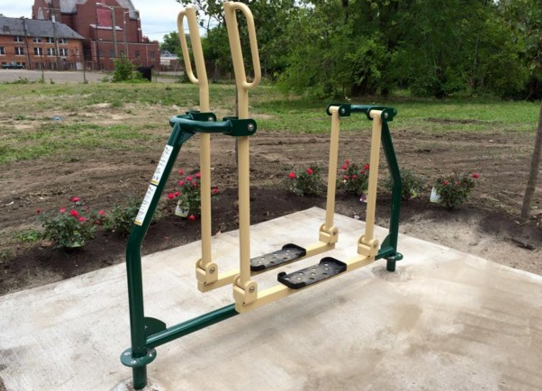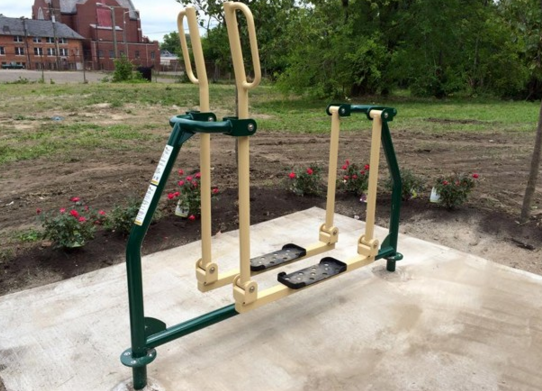 With the grant, Central Detroit Christian poured cement, bought exerciseequipment, and planted trees and ornamental landscaping. (Edible plants, including blueberry bushes, will go into the ground this summer, Johanon says.) The exercise bikes, rowing machines, and other equipment are all designed for outdoor use, so they won't rust or give out in the event that the Michigan winter turns characteristically cold. When selecting the equipment, Johanon says, she opted for things that looked like fun.
"I can see guys in the neighborhood really getting into it," she adds. "If it looks scary and it looks hard, people aren't going to do it."
It's difficult, Johanon says, to collect data about how people are using these new structures. They haven't reached the analysis stage yet. But anecdotally, she adds, one community member told her that the machines have already been helping her lose weight.
Exercise parks have been successfully implemented in other cities. "In 30 years as parks and recreation director, I have never seen as much of an immediate impact," Sherry McBee, a city official in St. Petersburg, Florida, explained toUSA Today. Discussing the parks' effects in Florida, McBee said, "It's just really been a win, win, win, win. … I have never gone by one of them that they haven't been heavily in use."
The Trust for Public Land, a national nonprofit devoted to park space, rolled out its first outdoor exercise areas—dubbed Fitness Zones—in 2009. There are 68 of these across the country, many of which, the organization writes on its website, are "in neighborhoods where gym memberships are too pricey to be practical."
In Boston, a pop-up "adult playground" on a three-acre site featured swings and ping-pong tables. New York City has installed outdoor fitness equipment in parks in all five boroughs. An outdoor exercise area geared towards senior citizens debuted in London in 2010.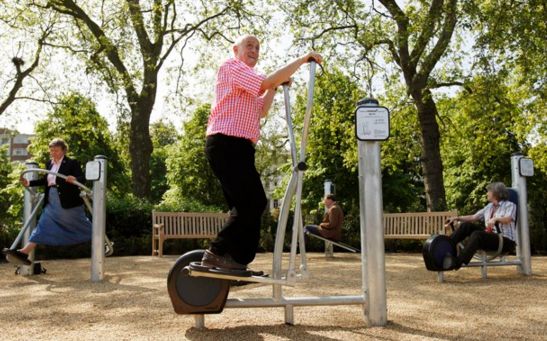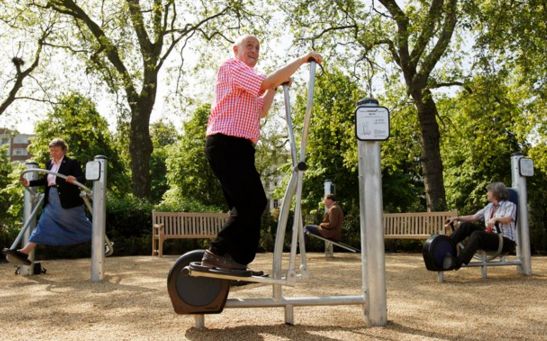 There's even a company that designs outdoor exercise equipment with aesthetics in mind. Swedish designer Catarina Rolfsdotter-Jansson's City Art Gym consists of a stainless steel bridge, ball, and bar. If no one's grunting and sweating, trying to heave themselves into a pull-up, you could easily mistake them for plain old sculptures.
In Detroit, the pocket parks are also offering a way for residents to connect with their neighbors and their community. One woman, who had been commuting to a suburban fitness center, explained to the local news website ModelD: "Maybe you ride the bike on Gladstone and bench press on another street."
H/t Curbed Detroit