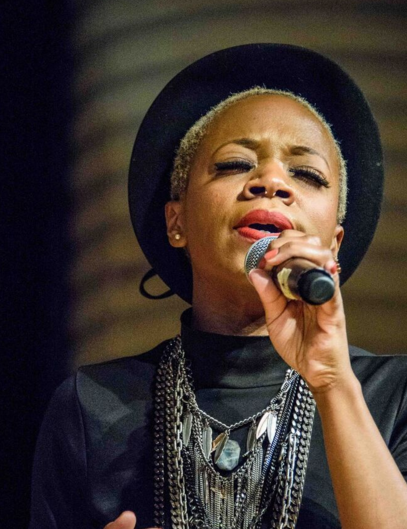 Photo credit (all photos): Annistique PhotographyOn Saturday evening the Charles H. Wright Museum of African-American
History and the jess Care moore Foundation presented the 12th Annual Black WOMEN Rock! (BWR!)
Concert to a sold-out audience. Over 500+ concert-goers showed up to the Museum to witness a rare
performance from a group of internationally-known, African American female Rock & Roll musicians.
Performers included Kimberly Nichole (The Voice, Season 10 Top-10 Finalist), Divinity Roxx (bass player
from Beyonce's all-female band), guitarist and vocalist Kat Dyson (Prince, Musiq Soulchild, Cyndi
Lauper, George Clinton) and jessica Care moore, founder and executive producer of the event.
Since 2010, BWR! has kicked-off Women's History Month at The Wright Museum to a standing room- only audience. A showcase of independent women artists of color who make a living in the Rock & Roll
genre, the concert pays tribute to Betty Davis, funk artist and "pioneer rocker." Moore stated on stage
Saturday evening that Black WOMEN rock!'s purpose is to celebrate and bring awareness to
extraordinary artists who, although they have played to crowds around the world, are not publicized to
"We have to create these platforms. And that's why I'm creating this platform," she said. "We
understand that black women do rock, and I don't mean just as in 'we're cool,' but in a Rock & Roll kind
In addition to Saturday's concert, this year's events included a five –day art exhibition entitled "Nasty
Gal" curated by Detroit visual artist Sibrina Nelson and "They Say I'm Different" artist talk to take place
Sunday, March 6 at 12:30 PM at the Charles H. Wright Museum. Parents and caretakers are encouraged
to bring children to the talk, which will include workshops, video presentations and a panel discussion.
Admission is free and open to the public.
In 2004, renowned poet and performer, jessica Care moore created Black WOMEN Rock!, a tribute to
Rock Icon, Betty Davis, in conjunction with The National Black Arts Festival in Atlanta. BWR! aims to defy
stereotypes of what a Rock & Roll artist looks and sounds like; featured artists have spent their careers
breaking down barriers of image, politics and sexuality in the music industry.
About the Charles H. Wright Museum of African American History
Founded in 1965 and located at 315 East Warren Avenue in Midtown Detroit's Cultural Center, The
Wright Museum is the world's largest institution dedicated to the African American experience. For
more information, please visit TheWright.org.