$10k Challenge: Rewarding Ideas for Business Growth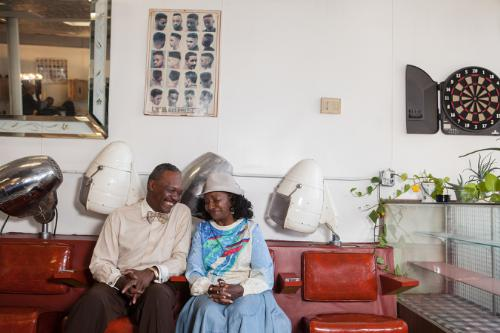 New Economy Initiative (NEI), a special project of the Community Foundation for Southeast Michigan (CFSEM), announced today the 30 small businesses from across Detroit, Hamtramck and Highland Park that were selected to win the $10k challenge for the first-ever NEIdeas: Rewarding Ideas for Business Growth.  The 30 winning businesses will each receive $10,000 awards for a total of $300,000 at a private award celebration the evening of Monday, October 27.
NEI launched NEIdeas in May 2014 to celebrate existing businesses in Detroit, Hamtramck and Highland Park and reward those with the best ideas for business growth. The two-tiered challenge offered a total of $500,000 in cash rewards and was open to small businesses at least three years or older.  The two types of awards included: $10,000 for 30 businesses grossing under $1 million annually and$100,000 for two businesses that gross between $1 and $5 million annually.  The $100k challenge winners will be announced in November.
"Small businesses and entrepreneurs have been crucial to our city for many decades – from paying taxes, to hiring local employees and being anchors for their neighborhoods," said David O. Egner, NEI Executive Director. "We were overwhelmed with the response from applicants in this first NEIdeas challenge and we look forward to casting a bright spotlight on the first 30 men, women and family-owned small businesses taking home $10,000 for their business growth ideas."
"Growing small businesses in Detroit is central to our administration's strategy for creating employment opportunities for Detroiters," said Mayor Mike Duggan.  "Dave Egner and NEI have shown through the success of this program how many great small businesses there are in Detroit.  All they need to grow is some strategic financial support, which is exactly what NEIdeas provides."
NEIdeas was operated in partnership with the Detroit Economic Growth Corporation (DEGC). DEGC headed up the jury process and an outreach program that featured more than two dozen "Ambassador" organizations and institutions throughout all three cities that provided small businesses with information and guidance throughout the application process.
"This landmark challenge provided a nice boost to our work with small businesses throughout the city," added Rodrick T. Miller, president & CEO, Detroit Economic Growth Corporation. "NEIdeas gave us the opportunity to connect more companies to all the forms of assistance we can provide, and in that respect it made every applicant a winner."
The 30 NEIdeas $10k challenge winners represent the innovation and ingenuity of Detroit's small business market.  NEIdeas narrowed down the applicant pool from the nearly 600 applicants to a select group of semifinalists. A jury comprised of empathetic entrepreneurs, small business leaders, non-profit partners and corporate partners recommended the final winners based on strict criteria including: growth opportunity, businesses' history and mission, neighborhood impact and good financial standing.
2014 NEIdeas $10k Challenge Winners Include:
Alexander's Total Lawn Care ­­- Landscaper – Detroit
Alicia's Cleaners and Alterations – Dry Cleaning and Alterations – Hamtramck
Anthology Coffee – Coffee Roaster- Detroit
Brother Nature Produce – Niche Farm – Detroit
Buffalo Street Farm – Farm and Agriculture Program – Detroit
Cafe con Leche – Independent Coffee House – Detroit
City Bird – Retail Store – Detroit
Corridor Sausage Co. – Artisan Sausage Purveyor – Detroit
Dijana Creative Sewing and Embroidery – Custom Design Studio – Detroit
Dulce Diamante Garden – Urban Farm – Detroit
Food Field (Peck's Produce) – Urban Farm – Detroit
G + C Style Barber Shop – Barber Shop – Detroit
GLEEOR, Inc. – Construction, Landscape and Property Management – Detroit
Graham's Printing, Inc. – Union Printer – Detroit
House of Morrison Shoe Repair – Shoe Repair and Leather Care Enterprise – Detroit
Mootown Ice Cream & Dessert Shoppe – Ice Cream & Dessert Shoppe – Detroit
OIC Movies – American Sign Language Video Producer – Detroit
Omega Wiring – Wire System Installation and Repairs – Detroit
One Custom City – Screen Printer – Detroit
Pronko Enterprises – Food Manufacturer – Hamtramck
Red Panda – Guitar Effect Design and Manufacturer – Detroit
Rising Pheasant Farms – Urban Farm – Detroit
Seabird Fresh Fish and Chicken – Fresh Seafood and Chicken Market – Detroit
Shep's Barber & Beauty Shop – Salon and Barbershop – Highland Park
Small World Development Center – Child Development Center – Detroit
Stan's Grocery – Grocery Store – Hamtramck
Sweet Potato Sensations – Bakery/Cafe – Detroit
The Turkey Grill – Restaurant – Detroit
Tijuana's Mexican Kitchen – Mexican Restaurant – Detroit
Touch of Class Restoration – Commercial and Residential Construction – Detroit
Since 2009, NEI has awarded $85.3 million in grants, while exposing more than 80,000 individuals to entrepreneurial services, and helping to create more than 1,200 new companies and 10,300 new jobs in the Southeast Michigan economy. In addition, more than$578 million was leveraged into the entrepreneurial ecosystem through not only entrepreneurs themselves, but also through the grantees and service providers.
The work of NEI has also helped to bring out 716 patents and invention disclosures in the region and exposed more than 250 business ventures to 80 local and national investors. In addition, Accelerate Michigan, an international business competition developed by NEI, has led to more than $4 million distributed in awards and, in 2013 alone, exposure for those businesses to 70 venture capitalists representing $1 trillion in capital.
About The New Economy Initiative
Visit neweconomyinitiative.org
Photo – http://photos.prnewswire.com/prnh/20141027/154537
SOURCE New Economy Initiative