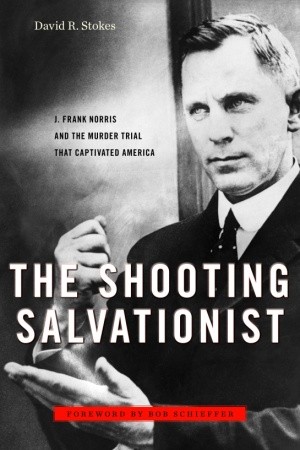 There are interesting Detroit Connections from the Author to the Subject of this book.
"At a moment ripe for a new kind of media-savvy preacher, in a place where parsons wielded guns as confidently as they toted their Bibles, radio minister and mega-church pastor J. Frank Norris emerged as the archetype of his day. In his riveting tale of Norris's 1927 trial for murder, David Stokes explains just how it is that this "Texas Tornado" became such a star…and lightening rod for controversy. Through rich and compelling narrative, a sharp eye for the quirky as well as the profound, rigorous research, and a commanding sense of the big picture, Stokes offers his reader a rare, exhilarating look at this notorious individual. In the process, he opens up fresh ways of understanding the local culture that vaulted Norris and his Texas-style fundamentalism onto a national stage."  – Darren Dochuk, author of From Bible Belt to Sunbelt: Plain-folk Religion, Grassroots Politics, and the Rise of Evangelical Conservatism
The author, David R. Stokes grew up in the downriver suburbs of Detroit, Michigan. And though he moved away from the area many years ago, he remains a devoted fan of the Detroit Tigers, Vernors "pop," Sanders Hot Fudge, and Michigan Coney Hot Dogs.

Reader Review:
I loved this vintage true-crime account of a Texas Baptist preacher in the 1920s who shot and killed an unarmed man in the preacher's own study. The story is well-written; it drew me in with nary a dull moment and I could hardly wait to get back to the book when I had to put it down. David R. Stokes has carefully mined the newspaper accounts and other original sources available about the murder and its aftermath. He also did a great job of background research on the shooter (J. Frank Norris)'s childhood and rise to fame.
J. Frank Norris was the kind of intense and driven individual who becomes a leader in whatever field he pursues. In his case, the path to religion was marked out by the guidance of a devout mother and the bad example of an alcoholic father. His early life was characterized by violence, as his father whipped him for destroying his stash of booze. Norris's sheer guts were revealed in an incident that happened when he was only thirteen: he defended his father against a gunman and the boy was shot three times. The dark Gothic of Norris's life continued as he entered the ministry and built an enormous church in Fort Worth, Texas. The church soon burned to the ground, and Norris was suspected (but never convicted) of arson.
Like other powerful preachers and politicians, Norris had inner demons that haunted him even as he built his megachurch empire. His moral crusades drew enemies to him who circled him like vultures, including some of Fort Worth's most powerful politicians. This only reinforced the narcissistic and paranoid aspects of his personality. When a local lumberman threatened him, Norris did not wait for the man to draw first; he shot him three times, claiming self-defense. Norris was put on trial for murder, in a case that captured national media attention. Stokes does a great job of delivering a blow-by-blow account of the trial.
I would have liked to read more about how Norris built his church and more about the lives of the parties involved after the trial, but overall, I found this book fascinating and well worth the time I spent reading it.