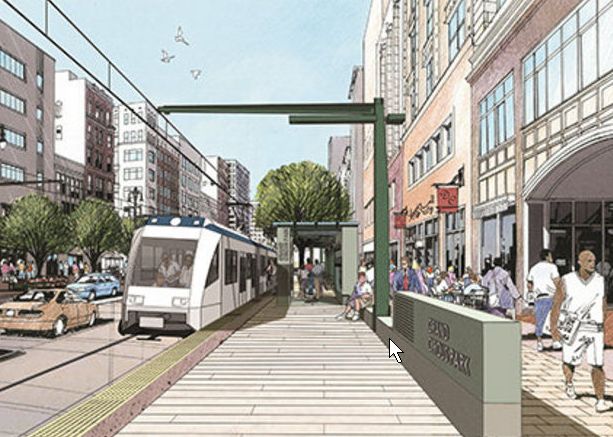 Dan Gilbert's Quicken Loans, which has naming rights to the M-1 light rail system along Woodward Avenue, has trademarked "Rocketrail" — leading to speculation Friday that it could become the name of the 3.3-mile line.
Federal records show that Quicken Loans trademarked the name Dec. 3. It also recently trademarked Qlink, Qline and Quickline.
According to U.S. trademark documents, Rocketrail is described a relating to "transportation of passengers via rail."
M-1 Rail officials wouldn't confirm or deny the speculation, and Quicken referred a reporter to M-1 Rail. They were to have announced the name at a highly publicized press conference that was called — and then canceled — last month.
"The naming selection will be part of a larger announcement in early 2016. There are many steps involved in selecting the name.
The M-1 board goes through a process in conjunction with the naming sponsor, and that process is ongoing," officials said in a statement released late Friday afternoon.
The founder of Quicken Loans, Gilbert has been a large financial contributor to the $137 million rail project, which is scheduled to begin service in 2017. Quicken acquired naming rights for $5 million.
"Rock" is a common theme in Gilbert's empire. In February, he announced the formation of Rocket Fiber LLXC, a Detroit-based high-speed Internet provider that boasted it would boost Internet speeds up to 100 times faster than the current residential average.