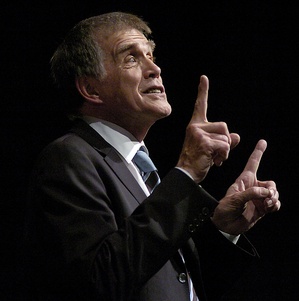 The Friends of the Grosse Pointe Public Library announce the tenth season of The Classics Books Lecture Series. University of Michigan professor emeritus, Dr. Ralph Williams' talk, entitled, "The Prior Poet: Shakespeare and Christopher Marlowe," will be presented on Thursday, March 1st at 7:30 p.m. in the auditorium of Grosse Pointe South High School, 11 Grosse Pointe Boulevard at Fisher Road in Grosse Pointe Farms. General admission is $10 at the door. Admission is free for Friends members, students and teachers with identification. (There are no presales.) For further information, call 313.343.2074 extension 6 or see the website atwww.gpfriends.org.
About the Talk:  Professor Williams will speak of the way in which Shakespeare responds to and rewrites the dramas of his great predecessor Marlowe. Shakespeare's plays are sovereignly his own, but Marlowe is present in them, powerful even as he is transformed.  He will deal chiefly with Marlowe's *The Jew of Malta* and Shakespeare's *The Merchant of Venice," as well as Marlowe's *Dr. Faustus* and Shakespeare's *The Tempest.*
About the Speaker:  A popular teacher and dramatic speaker, Professor Williams received the annual Golden Apple Award in 1992. In 2008 Professor Williams was picked as Michigan Professor of the Year by the Carnegie Foundation for Advancement of Teaching. Upon his retirement in 2009, after a 39-year career, he was awarded the first-ever Lifetime Achievement Golden Apple Award.
Ralph Williams, is an  Arthur F. Thurnau  Professor Emeritus of the Department of English, Language and Literature at the University of Michigan. He has studied 15 languages including Greek, Hebrew and Aramaic, and uses Italian, French, and Latin, especially frequently.
He specializes in Medieval and Renaissance literature, Shakespeare, literary theory, comparative literature and Biblical studies. He has taught such wide-ranging courses as The Bible in English, plus the literature of Chaucer to Frederick Douglass, to the works of Primo Levi and the Memory of Auschwitz.
Professor Williams was Associate Chair of the Department of English (for the second time) from 1999 to 2002. He also served from 1996 to 1999 as Director of the Program on Studies in Religion. While Associate Chair of the English Department, he was instrumental in creating and developing the Royal Shakespeare Company Residency program at the University of Michigan and continues to be involved with their annual visit.  He has worked closely with the University Musical Society to further the activities of the RSC Residency.
The Classics Books Lectures offer the scholarly expertise of professors from the University of Michigan's Department of English.  These stimulating talks are enjoyed by everyone from teenagers to octogenarians and beyond. The speakers, all notable scholars in their literary period, discuss the writers, how and why the works were written, historical background, comparison to other literature, and more. The audience is encouraged to ask questions and offer comments.
The rest of the 2012 classics to be discussed include:
"Reflections on Tennessee Williams' Centenary Year" with Professor Enoch Brater
Thursday, March 29, 2012
The Good Soldier by Ford Maddox Ford with Professor John Whittier-Ferguson
Thursday, April 19, 2012
Uncle Tom's Cabin by Harriet Beecher Stowe with Professor George Bornstein
Thursday, May 3, 2012
All lectures are at 7:30 p.m. at Grosse Pointe South High School, 11 Grosse Pointe Boulevard at Fisher Road in Grosse Pointe Farms, Michigan. Friends members, students and teachers with identification have free admission. General admission is $10 at the door. (There are no presales.)