America's oldest operating aquarium to add Sunday hours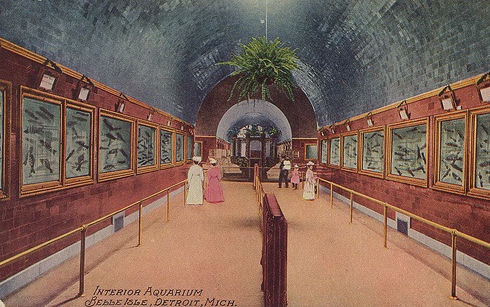 Beginning the weekend of June 7, 2014, the Belle Isle Aquarium will be open every Saturday and Sunday from 10:00 am to 4:00 pm. After being closed for a number of years, the aquarium reopened to the public with limited hours in September of 2012 through volunteer efforts. Currently, the aquarium is open to the public on Saturdays from 10:00 am to 3:00 pm. Due to enhanced volunteer efforts, the aquarium will be open an extra hour on Saturdays and will now be open on Sundays.
"We are delighted to be able to expand the hours that the Aquarium is open.    This is all due to volunteer support" said Patrick.   "Adding an hour on Saturday and being open on Sunday will allow more people to discover or re-discover the 109 year old Aquarium" added Boardman.
The expanded hours offer more opportunities for the public to see what's new at America's oldest operating aquarium. A successful fundraiser was held in December to bring back the popular electric eel, and there are now two electric eels on display. A volunteer team traveled to Washington, D.C. in December to salvage tank display materials from the National Aquarium that recently closed, which will be incorporated into new exhibits soon.
The Belle Isle Aquarium operates through the Belle Isle Conservancy. The organization formed in 2012 by merging four groups: Friends of Belle Isle Aquarium, Friends of Belle Isle, Belle Isle Botanical Society, and Belle Isle Women's Committee.
About the Belle Isle Conservancy
The Belle Isle Conservancy's mission is to protect, preserve, restore and enhance the natural environment, historic structures and unique character of Belle Isle as a public park for the enjoyment of all – now and forever. On February 10th, 2014, historic Belle Isle joined Michigan's expansive, award-winning park system as Michigan's 102nd state park. The Belle Isle Conservancy is responsible for generating substantial funds for improvement projects and cultural programs throughout the island. For more information, visit belleisleconservancy.org.
About the Belle Isle Aquarium
The Belle Isle Aquarium was designed by famed architect, Albert Kahn, and opened on August 18th, 1904.  Its Beaux Art style entrance decorated with stone facade incorporated two spitting fish and the emblem of Detroit. The aquarium interior had framed cypress tank-lined walls that were filled with fresh and salt-water fish. The water contained in many of these tanks was brought directly from the ocean for the aquarium. The Aquarium closed in 2005, it was the oldest continually-operating aquarium in North America. The Aquarium reopened September 15, 2012 and is open every Saturday, 10:00 a.m. to 3:00 p.m.