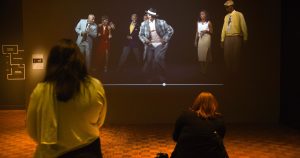 The most daring idea behind "Dance! American Art 1830-1960," which opens Sunday at the Detroit Institute of Arts, was pairing great art with life-sized videos of dancers in action.
You might think this a recipe for distraction, but you'd be wrong.
The seven videos that annotate "Dance!" are deeply absorbing, fun to watch, and offer cool, real-life context to a themed show full of color and movement.
This special exhibition, which runs through June 12, includes works on loan from, among others, the Boston Museum of Fine Arts, the Metropolitan Museum, the Los Angeles County Museum of Art, the National Gallery and Paris' Musée d'Orsay.
"Because this museum is so generous in lending its art, I was able to assemble an absolutely remarkable show," says exhibition curator Jane Dini, who started organizing the show several years ago when she was at the DIA. She's now associate curator for American art at the Metropolitan Museum.
After the DIA, "Dance!" will travel to the Denver Art Museum and then Crystal Bridges Museum of American Arts in Bentonville, Arkansas.
Masterpieces worth going out of your way for include Winslow Homer's otherworldly "Summer Night," Mary Cassatt's "Bacchante," John Singer Sargent's larger-than-life "La Carmencita," and nine Diego Rivera watercolors done as costume and set designs for the 1932 ballet "H.P. (Horsepower)."
As it happens, Dini credits American portraitist Sargent for reawakening her passion for dance, noting that the artist sketched and studied the Ballet Russe to get the poses just right, and painted dancers throughout his life.
dia-dance48-salvador salort-ponsBuy Photo
Detroit Institute of Arts Director Salvador Salort-Pons discusses the exhibit in front of "Dances" by Arthur Bowen Davis. (Photo: Max Ortiz / The Detroit News)
DIA director Salvador Salort-Pons was particularly delighted the Musée d'Orsay agreed to lend "Summer Night," a lyrical painting he describes as a pair of woman "dancing in the moonlight with the silvery ocean as the stage. It's very romantic, poetic and spiritual."
Got kids in tow? Make sure you head for William Holbrook Beard's "The Bear Dance" from 1870, a thoroughly fun portrait of bears getting down that was initially meant to satirize money-mad Wall Street brokers.
And if you've got a 10-year-old boy who's sure this show will be nothing but tutus, tiaras and other embarrassments, he can relax. There's a lot of rough-edged dance going on here, including George Caleb Bingham's 1846 portrait of young men cutting the rug atop a river boat's turkey pen, "The Jolly Flatboatmen."
Not surprisingly, the museum has a full roster of dance-related events tied to the exhibition, including a lecture by Dini on dance in American art Sunday at 2 p.m. Visit dia.org for a full listing.
But back to those videos. "Dance" is the rare multimedia exhibition where digital works neither feel added on nor out of place. Indeed, the videos spaced throughout this spacious show are very polite, in no way muscling the nearby artwork for attention.
Projections cover an entire wall, rather than sharing space with art, which was smart decision No. 1. The second was filming dancers against a black background, which makes the resulting videos even prettier and less of an intrusion.
Dancers we get to see and hear include Hardcore Detroit's Haleem Rasul, Joffrey ballerina and Detroit native Amber Neumann, and Thomas F. DeFrantz, the head of Duke University's African and African American Studies program and a dance historian and gifted performer.
"Dance tells stories," Frantz says, "about our partners, our desires, what we remember and what we've lost. There's no answer to dance," he adds, smiling. "It is what it does."
mhodges@detroitnews.com
(313) 222-6021
@mhodgesartguy
'Dance! American Art 1830-1960'
Through June 12
Detroit Institute of Arts, 5200 Woodward, Detroit
9 a.m.-4 p.m. Tuesdays-Thursdays; 9 a.m.-10 p.m. Fridays; 10 a.m.-5 p.m. Saturdays-Sundays
'Dance!' tickets
Wayne, Oakland and Macomb residents: $10 adults; $7 children 6-17
All others: $14 adults; $7 children
"Dance!" will be free every Friday
General admission: Free, residents of Wayne, Oakland and Macomb counties and DIA members; all others $12.50 adults; $8 seniors; $7 college students with ID; $6 children 6-17
Visit dia.org/calendar/dance-events.aspx for a list of dance-related events.
(313) 833-7900