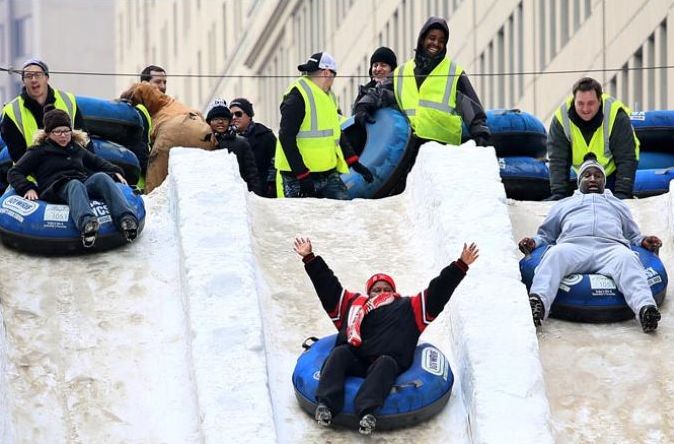 Detroit's premier winter festival, Meridian Winter Blast presented by Quicken Loans, returns to Campus Martius Park for its 12th year, Friday, Feb. 12 through Sunday, Feb. 14, with its sights set on a making a positive impact for Flint children. The festival's hours are Friday 11 a.m. to 11 p.m.; Saturday, 11 a.m. to 11 p.m.; and Sunday, 11 a.m. to 9 p.m.
Sing, Skate and Slide for Flint, in partnership with The Community Foundation of Greater Flint, will feature a coordinated effort among 46 festival bands, festival patrons and partners to raise funds and awareness of the new Flint Child Health & Development Fund. Through donation and advocacy all individuals participating in Meridian Winter Blast will be supporting childhood development, nutrition and the future needs of children affected by tainted water in the City of Flint. Additionally, the festival will also continue its tradition of impacting metro Detroit children through festival admissions, which is either $2, three non-perishable food items or a children's book, with the help of Matrix Human Services and volunteers from Talmer Bank.
Each band will donate 10 percent of their pay toward the Flint based fund, which will be matched by the Winter Blast Foundation. In addition to the music campaign there will be outreach to skaters throughout the weekend for additional support, and for true exhilaration, Talmer Bank will donate $1 to the Flint-based fund for everyone who travels down the snow slide. The Winter Blast "icing" on the cake is that Meridian Health Plan will match all dollars raised, up to $40,000.