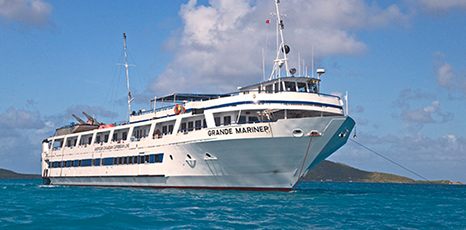 by Richard Dalton – LookUpDetroit
I just read in the Detroit Free Press that on Monday, July 17th, the Grande Mariner will be the first cruise ship ever to pull into the brand new Downtown Port of Detroit, and drop off some 100 passengers to tour various sites all around Metro Detroit. My wife and I recently returned from Homer, Alaska, where cruise ships regularly breath new life into that small town, so we were excited to learn of this new focus here, beyond just "planes, trains and automobiles."
Looking for more information, I surfed over to the Detroit Wayne County Port Authority Website.   The Google intro for the site states that the Port Authority was "established to plan, develop,and promote Detroit as a freight transportation and distribution hub". The Free Press reported that also on Monday "the port authority will hold a ribbon-cutting ceremony for the new $22-million facility" with Mayor Dave Bing and Wayne County Executive Robert Ficano, among others attending,
Looking for a current Press Release, I hoped to pass on this exciting days news with a photo or two on our website. Clicking on their Press Release Tab, I wasn't so excited. A bit of a let down . . . The most recent Press Release on their website was from May 21st, 2009, with a few other posts going back to January 3rd, 2005. Let's face it, it's obvious the Port Authority has been doing a lot good things lately. Anything done to improve and facilitate the use of our wonderful Detroit River resource is great for our region. 100 witnesses to those efforts will be walking down the gang plank into our town on Monday, but where's the "Promotion" part of the Port Authority's mission? Don't go to their website to find it.
It's a no-brainer to pick on them given their great news this week, but sadly this story could be repeated again and again with other Metro Detroit organizations, both public and private.  Neglected websites, too little community promotion, short on the many good news stories all around Metro Detroit. Heads should roll! Folks should be FIRED! Then again, maybe not, maybe we shouldn't wait for shakeups at various headquarters.
I'm reminded of a severely wounded man on life-support back in the 70's. No, not our own Detroit Robo Cop. Remember The Six-Million Dollar Man? That TV show opened with the line "We can rebuild him…we have the technology." That was one of our first introductions to a "bionic man". If this was fiction in the seventies, in a real sense it is reality NOW in many areas of life WE have the technology, including for communications.  "We can rebuild…" How?   Do you have a digital camera?  Have you ever had access to a computer keyboard?  Want to rebuild and promote our community? Want to see great news published from all around Metro Detroit? How many wonderful stories are out there that never get covered? Want to pass some of that news to others?  WE have the TECHNOLOGY. Who is the WE? Maybe not him, her or they. Maybe it's you and me. Maybe it's time for us to get the picture ourselves and pass it on with a few helpful and good words about our own community.
"So you want me to start a blog," you say? No, but I am promoting some Metro Detroit "citizen journalism." A picture is worth a thousand words, so, take a picture, add a few more words, and get published on LookUpDetroit.com, or some of the dozens of other websites ready, willing and able to lift up and promote our community. We can rebuild … Let's do it together … send me an email … we have the technology.
LookUpDetroit.com      – Main Website
LookUpDetroit.net     – Metro  Blog
Detroit Wayne County Port Authority Website
You can also reach me by phone at 248-656-4864  –  Richard Dalton