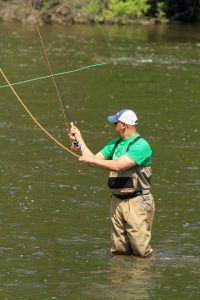 Schultz Outfitters is pleased to announce the 3rd Annual Fly Fishing "Demo Days", a two-day fly fishing event located on the Huron River in Ypsilanti's Riverside Park. Demo Days will take place on Saturday, June 7th from 10am – 6pm and Sunday, June 8th from 10am – 5pm. The event is free to attend and features events for all ages and skill levels.
Demo Days brings together some of the most respected talent and brands in the fly fishing industry for two days of education and fun. There will be on-stream casting and fishing demonstrations in the park each day, along with classes and seminars at Schultz Outfitters fly shop (located directly across the river from Riverside Park at 4 East Cross Street).
Demo Days features something for everyone from the "old pro's" who can learn a few new tricks to the curious beginner who's never picked up a fly rod. Representatives from leading industry brands will also be on-hand to show off the latest equipment and answer questions.
As part of Demo Days, we're thrilled to offer a "women's only" fly fishing workshop hosted by Canada's "first lady" of fly fishing, April Vokey. The workshop provides a unique and entertaining environment for women looking to enhance their skills and meet other female fly fishers.
For more information:
Schultz Outfitters
4 E. Cross St.
Ypsilanti, MI 48198
Team@SchultzOutfitters.com
SchultzOutfitters.com
734-544-1761