A nonprofit partnership in community communication and compassion
Thanks for Your tax deductible support of the Detroit Area Ministry of LookUpDetroit
On-Line Donation to Look Up Detroit:
Checks can be made out to Look Up Detroit and sent to:
Look Up Detroit
409 West Fourth Street 
Rochester, MI 48307
Thank you, please keep this interdenominational metro outreach in your prayers.
Note: Look Up Detroit and Rev. Richard Dalton's work in Metro Detroit is under the legal umbrella of the 501c3 Nonprofit – The Home Anglican Missionary Evangelical Society (THAMES)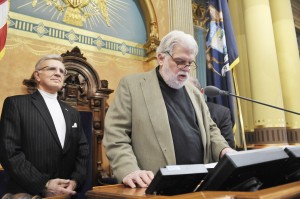 Richard offering prayer at the Michigan State Senate
Richard Dalton – Look Up Detroit
a nonprofit outreach of Culture, Communication and Compassion
_________________________________________________
Then the people will LOOK UP to the one who made them.  Their eyes will see the Holy One of Israel. – Isaiah 17:7
Look Up Detroit – Richard Dalton
409 West Fourth Street
Rochester, MI  48307
Phone: 248-656-4864
email: richard@LookUpDetroit.com
We must build some new bridges to connect the Metro Detroit Communities and enhance our culture.