The forecast for Friday evening (8/19) looks absolutely perfect for a free concert. Grab your friends and don't miss Tony Lucca at Bear Creek Nature Park!
Tony Lucca is a singer, songwriter, producer, actor, and Waterford, Michigan native.
He is perhaps best known for starting his career on The Mickey Mouse Club. In 2012, Lucca burned up The Voice stage, making it all the way to the finals on the back of his electric performances. He is a consistent touring artist and has toured with a multitude of acts, including Maroon 5, Kelly Clarkson, NSYNC, and many more. He plays guitar, piano, bass, and drums.
His catalog of music runs the gamut of soul-infused pop to tear-jerker folk balladry.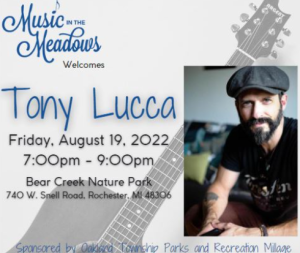 Come early, bring your blanket, a picnic, and non-alcoholic beverages. In the event of inclement weather, the concert will be moved to Rochester Christian Church, 4435 N. Rochester Rd. (NE corner of Snell and Rochester Rd). Call 248-651-4440 X299 to verify location on the day of the event. Event is free, sponsored by Oakland Township Parks and Recreation Commission.